The Export-Import Bank of the United States has agreed to guarantee two financing deals that will provide $125 million to support aerospace work at GE Aviation and Spirit AeroSystems.
One of the deals is intended to inject liquidity into the struggling US aerospace supply chain, while the other will help Australian airline Qantas purchase seven GE engines, says the bank.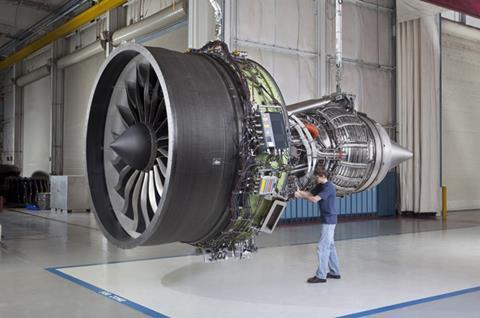 The guarantees will "support" some 500 US jobs and aid the "hard-hit aviation" sector amid the Covid-19 pandemic and associated government travel restrictions, says Ex-Im. Those factors, it adds, have restricted the availability of loans through private lenders.
Specifically, Ex-Im's board of directors agreed to back 90% of $40 million in financing from Bank of America to suppliers of Wichita-based Spirit AeroSystems. The funds will also benefit Spirit's affiliated business in Kinston, North Carolina. Spirit makes fuselage components to a broad range of manufacturers, including Airbus and Boeing.
That deal will enable Spirit to "pay its US-based suppliers", supporting 40 companies based in California, Florida, Iowa, Kansas, Montana, Oklahoma, Texas and Washington, says Ex-Im.
The guarantee comes through Ex-Im's "Supply Chain Finance Guarantee" programme, under which suppliers "sell their accounts receivable to a private sector lender at a discounted rate to obtain early payment of their invoices".
"It is designed to increase liquidity in the supply chain," Ex-Im says.
The bank also guaranteed an $85 million loan from JP Morgan to Australian airline Qantas, which is to use the funds to purchase seven spare GE Aviation engines for use on Qantas aircraft.
Ex-Im does not specify what engine types Qantas will purchase, but the airline's fleet includes Airbus A330s powered by GE CF6 engines and Boeing 787s powered by GEnx powerplants, according to Cirium fleets data.
The $85 million in financing will support some 400 jobs at GE's "manufacturing and assembly sites" and at GE's suppliers, says Ex-Im.