Spirit AeroSystems is again cutting its workforce and has further reduced its expected 2020 production of 737 fuselages, a pullback coming in response to new direction from Boeing.
Wichita-based Spirit has implemented "an immediate reduction of the hourly workforce" at its Oklahoma manufacturing facilities in Tulsa and McAlester, effective 12 June, Spirit says on 10 June.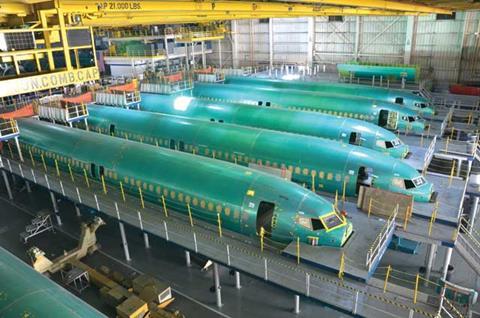 Additionally, Spirit on 15 June will furlough for 21 days "certain Wichita hourly employees directly associated with production work and support functions for the 737 Max".
Spirit does not specify how many staffers are affected by the reductions and did not immediately respond to a request for more information.
The job cuts come atop previous workforce reductions. The company has already disclosed some 4,700 job cuts, and furloughs.
The latest reduction responds to a fresh cut in Spirit's planned production of 737 components in 2020. The company now expects to produce components for no more than 104 737s this year.
"There will be a reduction to Spirit's previously disclosed 2020 737 Max production plan of 125 shipsets," the company says. "Spirit does not yet have definitive information on what the magnitude of the reduction will be but expects it will be more than 20 shipsets."
In addition to making 737 fuselages, Spirit produces propulsion and wing components for that aircraft.
In May, Spirit said it had reached an agreement with Boeing to produce components for 125 737 Max this year, down from a previously plan of components for 216 aircraft. Chicago-based Boeing had halted 737 Max production in January due to the type's ongoing regulatory grounding. Boeing has since restarted Max production at a "low", though unspecified, rate.
Spirit's latest production cut follows a 4 June letter in which Boeing asked Spirit to delay work on 20 737 sets, including four already in production and 20 in the pipeline, Spirit says.
The reduction will "support Boeing's alignment of near-term delivery schedules to its customers' needs in light of Covid-19's impact on air travel and airline operations", says Spirit. The move will also prevent "expenditure of potentially unnecessary production costs".
Spirit is working with Boeing to develop a firm 2020 production plan, it adds.
Boeing and Spirit had, until shortly after the Max's March 2019 grounding, been producing about 52 737s monthly, which equates to 624 annually, and Boeing had intended to boost production to 57 Max monthly.
Spirit's latest projections mean the company expects to produce as many Max sets this year as it previously produced in two months.
In 2018, before Max grounding, 737 production accounted for 56% of Spirit's $7.2 billion annual revenue.