Troubles with Boeing's 787 programme and pandemic-related pressures pushed aerospace component manufacturer Spirit AeroSystems to a $541 million loss in 2021.
Still, those results are a positive swing for Spirit following an $813 million loss in 2020.
Two aircraft programmes that account for a significant portion of Spirit's revenue – the 737 Max and 787 – have been under immense pressure in recent years, pushing the company to losses.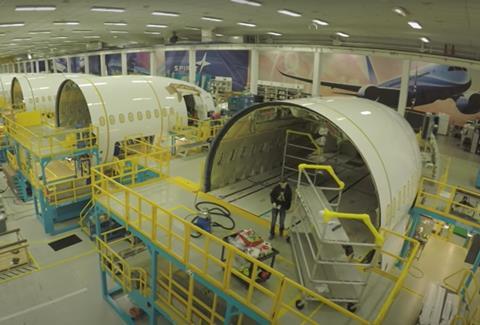 Though the 737 Max programme has started rebounding, production remains well below pre-grounding figures. Meanwhile, Boeing's deliveries of 787s remain halted amid quality problems. Spirit makes 737 fuselages and 787 forward fuselage sections, engine pylons and wing leading edges.
Spirit reports $3.9 billion in 2021 revenue, up 16% from 2020. By comparison, Spirit logged revenue of $7.9 billion in 2019.
In 2021, Spirit delivered "shipsets" for 1,028 aircraft, up from 920 in 2020. Deliveries of 737 fuselages jumped to 162 in 2021 from 71 one year earlier. But Spirit's 787 deliveries slipped to just 37 sets in 2021 from 112 in 2020.
In 2021, Spirit booked "excess capacity costs" of $218 million, "abnormal" pandemic-related costs of $12 million and another $242 million in forward losses. The forward losses included $154 million against the company's 787 work.
Boeing is working with the Federal Aviation Administration to achieve authorisation of required 787 rework.