Spirit AeroSystems significantly ramped deliveries of Boeing 737 fuselages in the third quarter of 2021, but, with its widebody business sagging, the company still lost $114 million in the period.
However, that is at least an improvement on the same period last year, where the aerostructures firm recorded a $156 million loss.
"Despite the challenges over the past two years we have been making a number of transformative changes. We maintained momentum on our strategy to diversify and grow, which we believe will position us to emerge stronger as the aviation industry recovers," said Spirit chief executive Tom Gentile unveiling its results on 3 November.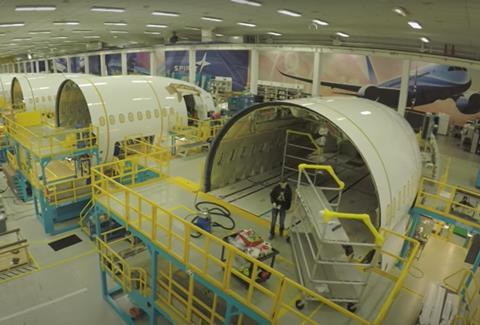 During the period ended 30 September, Spirit logged revenue of $980 million, a 22% year-on-year increase. That reflects both a bump in 737 fuselage deliveries and Spirit's acquisition from Bombardier of a wing manufacturing facility in Belfast, Northern Ireland and several aircraft aftermarket sites.
Spirit handed over components for 250 aircraft in the third quarter, including 47 fuselages for 737s, against respective figures of 206 and 15 in the same period of 2020. However, it shipped parts for just five 787s in the third quarter, down from 30 one year earlier. Boeing halted 787 deliveries in May amid fuselage-related quality problems.
Spirit's third-quarter results include $57.1 million in costs related to "excess capacity" and $70.4 million in forward losses. Those items reflect reduced production of structures for the 787 and Airbus A350, it says.
The company's fuselage manufacturing business lost $53.9 million in the third quarter, an improvement on a $96.7 million loss in the same period of 2020. Fuselage revenue increased 14% year on year, to $481 million.
Spirit's propulsion systems business turned a $21.9 million third-quarter profit, reversing a $15.6 million loss one year earlier, with third-quarter propulsion revenue up 45% year on year to $248 million.
However, the company's wing systems division lost $15.8 million in the third quarter, compared with a $23.2 million loss in the same period of 2020; wing-related revenue was up 44%, to $243 million.
Starting with its full-year 2021 results, Spirit will report earnings under three newly created operating segments: commercial aerospace, defence and space, and aftermarket services.