Spirit AeroSystems has again slashed its expected output of Boeing 737 fuselages and other components to just 72 shipments in 2020, while warning it could breach financial agreements before year-end.
The 72 shipments expected for 2020 include 35 fuselages already delivered to Boeing and 37 that Spirit will manufacture through December, the company said on 22 June.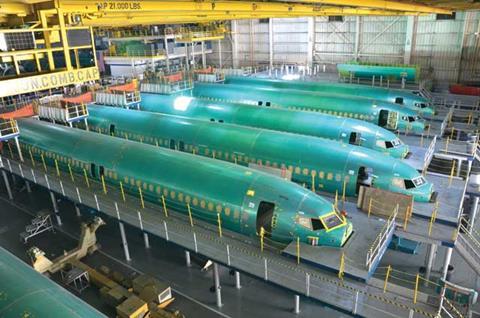 Prior to the March 2019 737 Max grounding, Spirit was producing components for 52 Max monthly.
"Given the substantial production plan reduction, Spirit could breach the financial covenants under its credit agreement in the fourth quarter of 2020 without an amendment or waiver," the company says in a regulatory filing. "Spirit is in communication with its lenders regarding this matter, and intends to work with them expeditiously to obtain appropriate relief from its covenants."
In April, Spirit said it had shored up its finances with a $1.2 billion debt offering. This month, Spirit also said the US military awarded it $80 million in funds intended to bolster US industrial capacity.
The Wichita aerostructures company, which not long ago relied on the 737 programme for half its revenue, says it was notified by Boeing of the further production rate cut on 22 June. Spirit makes fuselages and other components for 737 Max and 737NG-based maritime surveillance aircraft.
Boeing attributes the cut "to Covid-19's impact and accumulated inventory of Spirit's 737 products", says the aerostructures firm. "Such inventory was accumulated pursuant to… prior production rate agreements."
"The 737 Max grounding, coupled with the Covid-19 pandemic, is a challenging, dynamic and evolving situation for Spirit. During this time, Spirit plans to work with Boeing to manage the 737 production system and supply chain," the regulatory filing says.
The company did not immediately respond to a request for additional comment.
In 2019, after the Max grounding, Boeing reduced its 737 production from 52 to 42 aircraft monthly. But the Chicago airframer kept Spirit at the 52-aircraft monthly rate and continued to pay Spirit for surplus fuselages, a move designed to keep the supply chain healthy.
Then in January Boeing and Spirit both halted 737 production due to the ongoing Max grounding, which showed no immediate indication of a resolution.
Also in January, Spirit said it had reached an agreement with Boeing to deliver components for 216 737s in 2020. In May, Spirit reduced that figure to 125 fuselages, then on 10 June further cut the number to no more than 104 fuselages.
The company has disclosed some 5,000 job cuts in recent months.