Spirit AeroSystems will lay off more than 1,450 additional staffers in response to Boeing's and Airbus' plans to reduce commercial aircraft production rates.
The news comes after Spirit laid off some 2,800 workers earlier this year.
The Wichita-based aerostructures company, which in recent years relied on the 737 programme for roughly half its revenue, says 1,450 staff who work in Wichita will begin leaving the company on 15 May.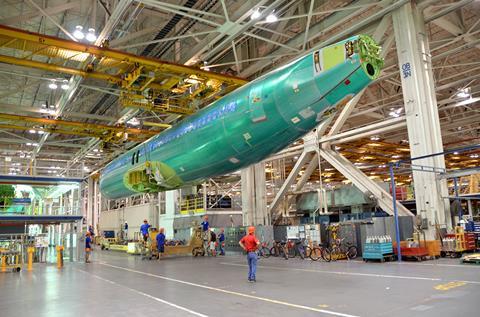 Those cuts affect 14% of Spirit's 10,500 workers in Wichita. The company employs some 15,000 workers globally, it says.
"Later this month, smaller reductions will occur at Spirit's remaining US sites that perform commercial work," the company adds. Spirit is reviewing staff requirements at non-US facilities and will disclose "plans in the coming weeks".
"Our actions follow reduced demand from our customers, who have lowered production rates as demand for new airplanes declines due to the impact of COVID-19," says Spirit chief executive Tom Gentile.
On 29 April, Boeing announced it intends to resume 737 Max production at "low rates" and to increase production to only 31 aircraft monthly in 2021. Prior to the March 2019 Max grounding, Boeing was making 52 Max monthly and planned to boost production to 57 or more jets monthly. Boeing says it expects Max deliveries will begin in the third quarter.
In addition to the slower Max production rates, Boeing is slashing 787 production from 14 to 10 aircraft monthly this year, and to seven jets monthly in 2022. It also will reduce 777 production from five aircraft monthly to three aircraft monthly.
In addition to production cuts, Boeing is reducing its workforce by about 10%, or some 16,000 employees.
Likewise, Airbus has cut A320neo-family aircraft production from 60 to 40 aircraft monthly, and trimmed A330 and A350 production.
The layoffs will not affect Spirit's military programmes, and the company might transfer some commercial workers to the defence side, it says.
Spirit adds it will transfer about 700 workers to a "temporary special project" to produce medical devices in Wichita. That work will last through October, possibly longer.
In January, Spirit laid off 2,800 in Wichita, citing Boeing's decision to suspend 737 Max production due to the type's grounding. Then, in early April, Spirit announced an unspecified number of additional staff furloughs.