Spirit AeroSystems has restructured its business into three new operating segments, a move the company says will help it focus on expansion and diversification of revenue.
Starting with its full-year 2021 results, the Wichita aerostructures company will report earnings under the new segments, which include commercial aerospace, defence and space, and aftermarket services, Spirit says on 30 September.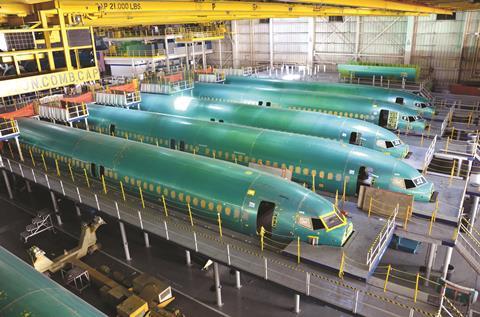 The company's existing operating units include fuselage systems, propulsion systems and wing systems.
The changes follow several years during which Spirit's earnings suffered mightily due to the 20-month grounding of the Boeing 737 Max. Prior to the grounding, roughly half of Spirit's revenue came from that programme. The company makes fuselages for the 737.
The realignment reflects Spirit's previously stated goal of deriving 40% of revenue from commercial aerospace sales, 40% from defence and space sales and 20% from aftermarket sales, the company says.
"Spirit's new structure and leadership team will help drive strategic plans across those three divisions to continue diversifying the company's customer base, de-levering the company's balance sheet and driving greater margins," the company adds.
Spirit's chief operating officer Sam Marnick will be president of the new commercial division, a job involving oversight of Spirit's Airbus and Boeing programmes and its business jet and electric air taxi work. The job also involves managing Spirit's supply chain fabrication, tooling and facilities. Marnick will remain Spirit's COO, the company says.
Duane Hawkins, who currently heads Spirit's defence- and space-related work, will become president of the formal new defence and space business segment.
Kailash Krishnaswamy, who has held a variety of positions at Spirit, will head the company's new aftermarket division as senior vice-president. Spirit's aftermarket business expanded significantly with its October 2020 acquisition of aircraft services operations from Montreal airframer Bombardier.
During the 737 Max grounding, which US regulators lifted in November 2020, Spirit worked to diversify its business. Those efforts included the Bombardier acquisitions. Spirit also intended to acquire aerospace component maker Asco, but that deal fell through in September 2020.