Airframe maker Spirit AeroSystems expects to post a $160 million net loss in the first quarter of 2020, a reversal from a $163 million profit one year earlier.
Preliminary results released by the Wichita company on 14 April reflect a quarter in which Spirit halted much of its production and implemented layoffs and furloughs as it scrambled to respond to the ongoing 737 Max grounding and coronavirus pandemic.
The company, which has not released final first quarter financial results, issued preliminary figures the same day it said it will shore its finances with a $1.2 billion debt offering expected to close on 17 April.
Spirit intends to use that money for general corporate purposes and to repay other debt, it says.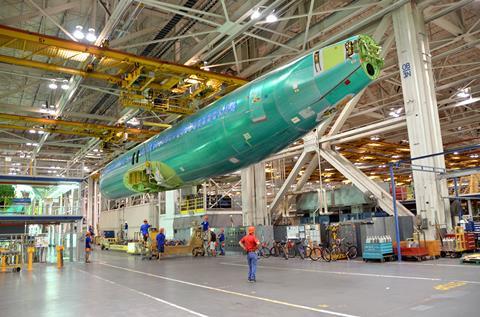 The company says it generated about $1.1 billion in first quarter revenue, down about 46% from $2.0 billion in the first quarter of 2019.
Spirit, which relied on Boeing for about half its 2019 revenue, stopped Boeing-related production on 25 March in response to Boeing's commercial production halt. Boeing halted production due to the coronavirus pandemic. Spirit makes products for a host of Boeing aircraft. The company has also been affected by Airbus' recent reduction in commercial aircraft production rates.
Spirit announced on 8 April it will furlough workers in Wichita and Oklahoma for 21 days. In January, the company said it was laying off 2,800 workers due to Boeing's suspension of 737 Max production. That suspension, which led Spirit to suspend its 737 Max fuselage work, resulted not from coronavirus but from delays in certification of the 737 Max.
Spirit says its first quarter results will include $205 million in various other expenses. Those include a $42 million one-time expense related to implementing cost- and workforce-reduction efforts, $25 million stemming from the coronavirus-induced production suspension, $73 million from the January 737 Max fuselage production halt and $65 million in retirement plan expenses.
The company held $1.8 billion in cash at the end of March, though a Jefferies report notes Spirit intends to close two acquisitions this year – a $420 million purchase of Belgium component provider Asco and a $500 million acquisition of Bombardier's aerostructures plants.