SriLankan Airlines has filed a legal claim against Airbus, related to bribery allegations that the airframer settled with France, the UK, and USA in early 2020.
The airline confirms that it has made a "claim" against Airbus, but offers no further details. It adds that the airline has "not sued Airbus" and that relations remain "cordial".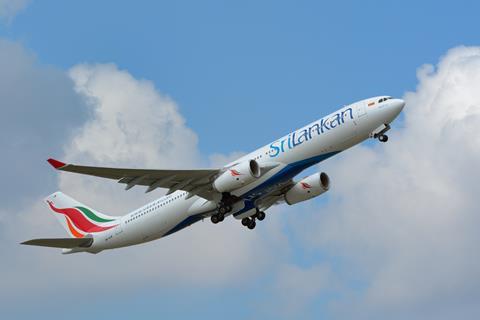 "As always, our desire is to resolve this through an amicable dialogue," says the airline.
It declines to provide other details.
SriLankan was responding to queries from FlightGlobal following a statement by Transparency International Sri Lanka (TISL). The statement welcomed "SriLankan's decision to sue Airbus" for $1 billion in damages, and call for the cancellation of four A350-900s on order.
"The move by SriLankan Airlines follows information revealed through a deferred prosecution agreement between the Serious Fraud Office, UK and Airbus in relation to the bribing of public officials by Airbus in several countries including Sri Lanka," says TISL.
"While commending the move by SriLankan Airlines to sue Airbus, TISL is concerned that the alleged perpetrators of corruption in Sri Lanka are yet to be held accountable domestically."
Judicial authorities overseeing the deferred prosecution arrangement with Airbus last year described as "endemic" the alleged failure to prevent bribery, involving third-party agents, linked to its commercial aircraft and defence divisions, as details emerged of activities scrutinised by fraud investigators.
According to an agreed statement of facts prepared in relation to the deferred prosecution, Airbus allegedly failed to stop associated individuals from bribing others concerned with the purchase of aircraft by SriLankan Airlines between July 2011 and June 2015.
The statement said a straw company was registered in Brunei and the wife of a SriLankan Airlines executive – with no aerospace expertise – was engaged as a business partner, through which up to $16.8 million was offered to influence the purchase of 10 Airbus jets and the lease of another four.
Airbus declines to comment on the SriLankan legal claim.
In a 31 January 2020 statement, Airbus outlined its final agreements with France, the UK, and USA in regard to the allegations, for which it paid total penalties of €3.6 billion ($4.3 billion), of which €984 million was paid to the SFO. In its deferred prosecution agreement with the UK, as with the France and USA, Airbus stated that the "agreement does not amount to an admission of liability".