2023 will mark the 20th anniversary of the final flight of Concorde, but a return to supersonic air travel still seems an uncertain prospect
The prospect of a return to civil supersonic flight was looking increasingly uncertain as 2023 approached, after several major engine manufacturers confirmed they had no intention to develop powerplants for the application.
However, that has not deterred Boom Supersonic, the most visible player in the segment. Following the collapse of its tie-up with Rolls-Royce, it announced on 13 December plans to develop its own supersonic engine with Florida Turbine Technologies (FTT).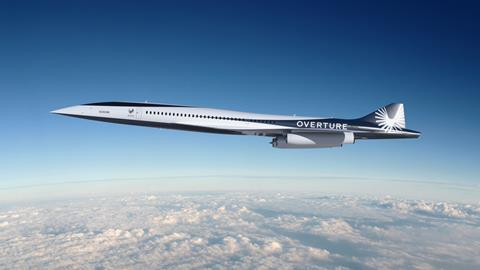 Another player, Massachusetts-based Spike Aerospace, is progressing with its plans, but in "semi-stealth mode", its chief executive Max Kachoria tells FlightGlobal. "What we are doing is well known. But the specifics are reserved for our key stakeholders."
The supersonic space grew decidedly less crowded in 2021 when US supersonic business jet developer Aerion failed amid financial trouble.
Until recently, Boom, with offices in Colorado, had seemingly been humming along with the development of its Overture, a conceptual airliner the company says will cruise at Mach 1.7 and have range of 4,250nm (7,860km). It intends to deliver the first Overture in 2029.
INCREASING COMMITMENTS
In 2022, the company revealed plans to manufacturer the Overture at Piedmont Triad International airport in North Carolina, and landed several aerospace partners. It also revealed design changes that included higher-aspect-ratio wings and a shift from two to four engines. Additionally in 2022, American Airlines said it committed to order up to 20 Overtures, building on a commitment from United Airlines.
But that momentum seemingly stalled in September when R-R said it had stopped working with Boom, after performing engine studies for the Overture.
"After careful consideration, Rolls-Royce has determined that the commercial aviation supersonic market is not currently a priority for us and, therefore, will not pursue further work on the programme at this time," the UK engine maker said.
Boom reported the news differently, saying "it became clear that Rolls' proposed engine design and legacy business model is not the best option for Overture's future airline operators or passengers".
Within days, other engine makers – GE Aerospace, Honeywell, Pratt & Whitney and Safran – confirmed that they, too, are not developing supersonic civil aircraft engines.
Despite that lack of interest from the propulsion community, Boom promised to make an announcement on its engine by the end of the year, a prospect that seemed to grow more remote as Christmas drew closer. However, over the weekend of 10 December, reports emerged that, against all odds, Boom had a solution.
On 13 December it revealed that solution: the Symphony engine – a twin-spool, medium-bypass design, with no afterburner, delivering 35,000lb (156kN) of thrust at take-off.
FTT will work with Boom on the engine architecture, with GE Additive providing consultancy on additive technologies, and StandardAero taking the lead on maintenance.
However, Boom has not disclosed how or where the engine will be built, or indeed how much development work has already been carried out. The 2029 entry into service target for the Overture gives the company less than seven years to develop, construct, fly and certificate both an all-new engine and an all-new airframe, an ambitious timescale by the standard of even the industry's most seasoned manufacturers.
Uncertainty also surrounds Spike's plan to develop a supersonic business jet called the S-512.
In a 2022 blog post, Kachoria conceded companies like his face challenges now that engine makers have seemingly backed off from supersonic civilian aircraft engines.
"Does supersonic flight face difficulties in designing a new civil jet without an engine? Yes, absolutely. Super difficult," he wrote. "But that is not the end of the story… this is just the beginning of a long road to supersonic flight."
Kachoria declines to specify Spike's progress in developing the S-512 but insists work continues.
"The Spike S-512 programme is moving along very nicely, and we are very excited about the progress made in the last few years," he says. "Developing a supersonic aircraft will take years of engineering, testing and certification.
"We have taken on the slogan 'It's good to be quiet' rather than issuing constant press releases about timing, funding or customers."