Idaho-based Tamarack Aerospace is partnering with Ampaire to offer its active winglets across a range of aircraft types being converted to run on hybrid-electric power by the Los Angeles company.
Tamarack is showing off its winglet system – which it calls the Performance Smartwing – on a Beechcraft King Air parked on the NBAA static display at Orlando Executive airport.
Ampaire is developing hybrid-electric propulsion modifications for King Airs and several other aircraft types, including the Cessna Caravan and De Havilland Aircraft Twin Otter.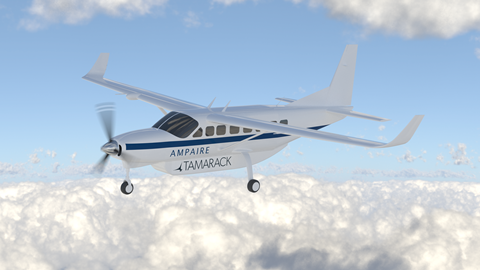 Tamarack is now offering its winglet system on Ampaire's hybrid conversions of those types, the companies said on 17 October. The agreement is a "memorandum of understanding" and details remain unsettled, including whether the modification might be standard or optional on Ampaire's modification.
The Performance Smartwing system involves composite winglets mounted on wing extensions, which are equipped with "automatically" deployed control surfaces.
The technology, which Tamarack has long offered on Cessna Citation CJ-series jets, "smooths flight", alleviates loads and improves efficiency, Tamarack says.
"Joint development work has already commenced, with analysis validating synergies between Tamarack's Performance Smartwing… and Ampaire's hybrid-electric propulsion technology," the companies say. The upgrade "will offer customers the option of further enhancing performance and operating-cost savings".
"Tamarack's technology is a great match with Ampaire's hybrid-propulsion system," says Ampaire chief executive Kevin Noertker.
Ampaire has been developing novel propulsion systems for several years, having flown a hybrid-powered Cessna 337 Skymaster and secured orders for a hybrid-electric conversion it calls the Eco Caravan; first flight of the latter is due in the coming weeks.
Some 170 Cessna CJs have Tamarack's winglet system, and Tamarack is now working to bring the technology to the King Air. It is testing both the 200 and 350 variants of the twin-turboprop fitted with the modification and is close to landing three customer orders, Tamarack says, which will lead to certification within one or two years.
Additionally, Tamarack says it is in discussions with the US military about adding its winglets to Lockheed Martin C-130s, and is discussing an order with a European client covering the modification of Airbus A320s.
Tamarack's Citation programme stumbled in recent years following several in-flight upsets that investigators attributed to its winglet system, including a deadly 2018 crash. Tamarack disagreed that its system caused the accident but developed a fix to address a problem involving deployment of control surfaces.
Regulators have since lifted the grounding for modified jets. Tamarack entered bankruptcy protection in 2019 and emerged in 2021.