Textron Aviation's first-quarter profit more than doubled year-on-year to $121 million, with the company delivering more aircraft and reporting solid gains in aftermarket revenue.
The business, which includes Cessna Aircraft and Beechcraft, generated $1 billion in first quarter revenue, up 20% year-on-year.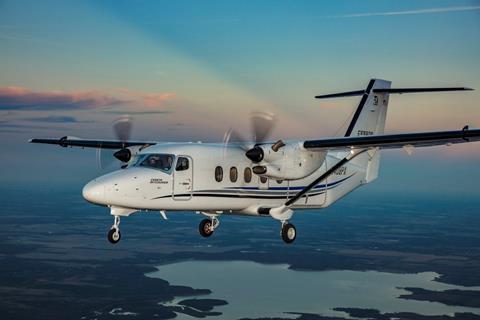 "We continue to see very strong demand, solid pricing, and increased deliveries from our Citation jet and commercial turboprop products and higher aftermarket volume from increased aircraft utilization," Textron chief executive Scott Donnelly says during the company's first-quarter earnings call on 28 April. Textron owns Textron Aviation.
Textron Aviation's $121 million profit in the period compares to a $47 million profit in the first quarter of 2022.
The airframer delivered 39 jets and 31 commercial turboprops in the first quarter, compared to 28 jets and 14 turboprops in the same period of 2021.
During the first quarter, Textron Aviation secured Federal Aviation Administration certification of its new Cessna SkyCourier twin-engined turboprop. Earlier this month, Textron acquired Slovenian aircraft developer Pipistrel in a €218 million ($238 million) all-cash deal.
Textron's other aviation division, Bell, saw its first-quarter profit slip 7% year-on-year to $98 million, with revenue about flat year-on-year at $834 million.
Bell delivered 25 helicopters in the first quarter, up from 17 in the same period last year.