Textron Aviation has delivered to FedEx the first Cessna SkyCourier turboprop, a milestone coming 4.5 years after the Wichita airframer launched the programme.
FedEx is launch customer of the clean-sheet SkyCourier, which Textron Aviation markets as a cargo and special-mission aircraft, and as a 19-passenger airliner.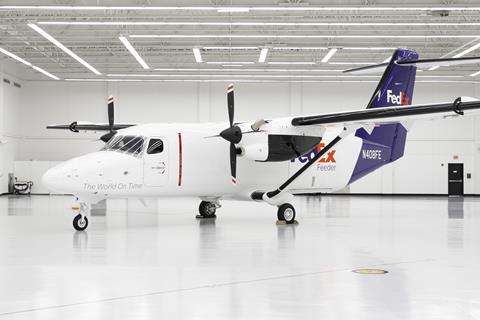 The company, which owns Cessna, disclosed the first delivery on 9 May. FedEx holds orders for 50 of the aircraft, which are powered by twin Pratt & Whitney Canada PT6A-65SC turboprops.
FedEx also holds options to order another 50 of the type, according to Textron.
"We believe many other air freight, passenger and special mission operators also will benefit from the winning combination of low operating costs and unparalleled lift capacity that the new Cessna SkyCourier brings to the market," says Textron Aviation president Ron Draper.
It is unclear when FedEx intends to place the first SkyCourier into service. The package delivery company did not immediately respond to a request for information from FlightGlobal.
Last month, Textron Aviation said SkyCourier had received certification from the US Federal Aviation Administration.
The company launched the SkyCourier development programme in 2017. The aircraft has capabilities similar to those of the Beech 1900D, which has long been out of production.
The freighter variant of SkyCourier has range of 940nm (1,741km), ability to carry payload up to 2,722kg (6,000lb) and maximum cruise speed of 210kt (389km/h), according to Textron Aviation.