Early this week, it emerged that US aerospace suppliers Hexcel and Woodward had cancelled a proposed merger that would have seen the two Top 100 companies emerge with combined revenues of around $3.5 billion. The two companies blamed the "health crisis caused by the coronavirus" and the need for each to "focus on its respective business". It came just after approval was granted for one of the biggest mergers in industry history: that of Raytheon and United Technologies, parent of Pratt & Whitney and Collins Aerospace.
There have been many significant marriages in aerospace in the past quarter century, including Boeing-McDonnell Douglas; the unification of French, German and Spanish champions to form EADS; United Technologies and Rockwell Collins. However, dozens of attempted mergers never get that far. Some become little more than well-informed rumours; others falter at the final regulatory stage. We compiled a Top 10 of would-be super-entities that never were, in no order of importance.
1. Textron-Bombardier
Shares at both companies jumped early this year on reports in The Wall Street Journal and elsewhere that the US company was poised to bid for what was left of the beleaguered Canadian group. Since launching the CSeries over a decade ago, Bombardier had been in financial trouble, and has in recent years been forced to divest many of its assets, with Airbus taking control of CSeries (now the A220), Mitsubishi Heavy Industries poised to take the ailing CRJ regional jet line, Longview Aviation buying the Dash 8 turboprop and waterbomber programmes, and Spirit AeroSystems set to acquire its Belfast- and Morocco-based aerostructures divisions. Bombardier has now provisionally sold its transportation business to Alstom of France, in a deal scheduled to close in the first half of 2021. Textron's move for Bombardier never materialised and the Montreal-based company remains as a pure-play business aircraft manufacturer.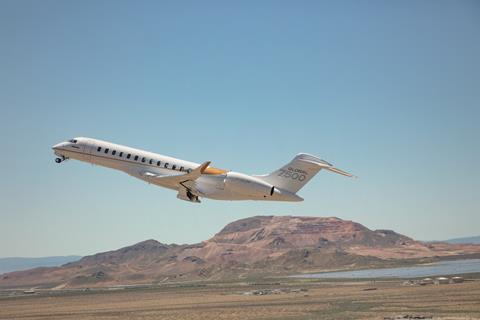 2. EADS-BAE Systems
Steering a merger between the European aerospace giant and UK defence house BAE Systems was first on the to-do list, and would have been the enduring legacy, of Tom Enders, after the German industrialist took over as chief executive of EADS in 2012. Dominant in civil airliners and helicopters, EADS was not a big-hitter in defence, and Enders and his board were particularly keen on BAE's strong position with the Pentagon. The merger was effectively stamped on at the eleventh hour by German Chancellor Angela Merkel, who was worried about a dilution of EADS's position as defence contractor of choice to Berlin. During Enders' seven years in charge, despite some mis-steps, EADS went on to change its name to Airbus, and consolidate its position in the commercial market.
3. Hawker Beechcraft-Superior Aviation
Also in 2012, a troubled Hawker Beechcraft had been in talks with Beijing-based Superior Aviation about a $1.8 billion sale of the business. Once part of Raytheon, Hawker Beechcraft had struggled to recover from the downturn in the business jet market after the post-September-2001 downturn and the 2009 financial crash. While the King Air turboprop remained a strong seller, its jets were struggling against competitors from Bombardier, Cessna and new player Embraer, and the company had entered bankruptcy protection. Despite a final agreement being "imminent", the Chinese and Americans could not agree terms, and, two years later, the company (minus its Hawker jet line-up) was acquired by Textron, owner of its Wichita neighbour and rival Cessna. Cessna and Beechcraft were merged into a new entity, Textron Aviation.
4. GE-Honeywell
Shortly after the creation of EADS in 2000, another mega-merger was being hatched on the other side of the Atlantic – the biggest industrial merger in history. In early 2001, legendary General Electric chairman Jack Welch was reportedly keen to retire with a bang, by joining forces with fellow US giant Honeywell in a $42 billion deal. While both companies were major aerospace players – GE in engines and Honeywell in avionics, propulsion and mechanical components – their empires spanned everything from household appliances to air conditioning units. The merger was approved by US anti-trust authorities but thwarted by the European Commission on grounds it would reduce competition in the aerospace market.
5. EADS-Finmeccanica
A decade before Tom Enders' bid to buy BAE, there had been talks concerning Italian industrial house Finmeccanica becoming part of the Franco-German group, which itself had been set up in 2000 as a merger between France's Aerospatiale, Germany's Daimler and Spain's Casa. However, two years of negotiations collapsed in 2002. The Italians had been collaborating with EADS and its subsidiaries on a number of joint ventures, and continue to do so, including the NH Industries NH90 helicopter, regional turboprop manufacturer ATR, the Eurofighter Typhoon programme, and the MBDA missile house. However, a formal merger never happened and Finmeccanica (soon to become Leonardo) focused instead on US expansion and the helicopter segment by buying out GKN's UK share of the AgustaWestland business.
6. BAE Systems-Boeing (or Lockheed Martin)
In the early 2000s, BAE Systems saw a merger with one of the US mega players as key to gaining a bigger footprint in the world's biggest defence market, getting bigger by the day as Washington, DC became embroiled in conflicts in Afghanistan and Iraq. However, in 2004, new Boeing chief executive Harry Stonecipher made clear he had "no interest in buying BAE Systems", because it was too vertically integrated and involved in activities, such as shipbuilding, that were outside Boeing's target markets. Previously, reports had circulated that BAE had been in talks with Lockheed Martin about a merger, with one executive at the UK firm saying BAE expected there to be more consolidation in the industry and to be "part of that".
7. Dassault-Aerospatiale
France's Aerospatiale was merged with its counterparts in Germany and Spain to form EADS in 2000, but the company – which owned the French "share" of Airbus – was not the only significant aircraft maker in the country. There was also Dassault, maker of Falcon business jets and France's only producer of military jets. Although Aerospatiale had a substantial stake in Dassault Aviation that was passed to EADS – a legacy of the nationalisation policy of the Mitterand era – control remained with the family of chairman Serge Dassault, son of founder Marcel. Dassault remains one of the few private large aerospace companies in the world, still under the ownership of the family despite Serge's death two years ago.
8. Safran-Thales
Another mega French merger was in the cards in the noughties. Safran – created when the Snecma group took over defence electronics company Sagem – had been mooted for a further fusionnement, this time with Thales. However, in 2007, Thales chairman Denis Ranque told Les Echos that the climate was not right to pursue further merger talks. He cited the fall in the value of the dollar – much of Safran's revenue came from CFM engines, sold in the US currency. The French government, under new President Nicolas Sarkozy, owned shares of around 30% in both companies, but even it was reluctant to create an industrial giant whose interests would have spanned aero engines and aircraft seats to cockpit technology and naval systems.
9. BAE Systems-Rolls-Royce
For a company seemingly so keen on mergers, it seems a wonder that BAE is still around in roughly the same shape as it was at the turn of the century – although a series of US acquisitions have bolstered its stateside reach. A merger of the UK's two big aerospace and defence champions has been a discussion item among commentators for many years. Rolls-Royce's unique capabilities in defence means the government would almost certainly never permit a foreign takeover of the propulsion giant, but uniting the two former nationalised concerns would make the Derby-based company less exposed to one-off internal calamities, such as expensive technical hitches with an engine programme, or macro-economic impacts, such as the coronavirus crisis. Do not rule it out.
10. Lockheed Martin–Northrop Grumman
As both their names make clear, Lockheed Martin and Northrop Grumman are the products of a wave of mid-1990s consolidation in the US that followed the downturn in defence spending as a result of the ending of the Cold War. But in 1997, a further merger looked on the cards with Lockheed poised to acquire Northrop for $11.6 billion, subsuming the latter and leaving just three major defence contractors to the Pentagon alongside Boeing and Raytheon. It was a merger too far for Washington, DC, which opposed it on anti-trust grounds amid fears it would restrict competition and innovation. After months of negotiatioizns, Lockheed called off the deal in 1998.