Trading of Boeing's shares has been halted as the company announces it will suspend production in the Puget Sound region of Washington state for at least two weeks.
The New York Stock Exchange's website confirms a "halt" on trading of Boeing's shares, citing "news pending".
The developments come one day after a Boeing employee at the company's Everett, Washington 787 site died of coronavirus infection. An employee at the company's North Charleston, South Carolina 787 site has also tested positive, according to reports.
"Boeing announced a temporary suspension of production operations at its Puget Sound-area facilities in light of the state of emergency in Washington state and the company's continuous assessment of the accelerating spread of the coronavirus in the region," Boeing says in a media release. "These actions are being taken to ensure the well-being of employees, their families and the local community, and will include an orderly shutdown consistent with the requirements of its customers."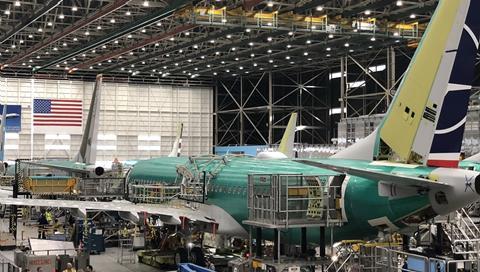 Boeing will "begin reducing production activity today and projects the suspension of such operations to begin on Wednesday," it adds. "The suspension of production operations will last 14 days."
"This necessary step protects our employees and the communities where they work and live," Boeing chief executive Dave Calhoun says in the release.
Staffers who cannot work from home will receive 10 days of paid leave, Boeing says. "When the suspension is lifted, Boeing will take an orderly approach to restarting production with a focus on safety, quality and meeting customer commitments."
The Seattle Times on 22 March reported the Everett employee's death, and Charleston's The Post and Courier reported on 23 March that an employee at Boeing's South Carolina site tested positive for coronavirus.
Boeing declines to confirm either report, citing the need to respect workers' and workers' families' privacy.
The Times says the deceased Everett staffer was an International Association of Machinists (IAM) shop steward who oversaw finishing work on the 787 programme.
The employee's death came shortly after his brother pleaded on Facebook for Boeing to shut its Everett site, the outlet reports.
The IAM also declines to confirm the death.
Charleston's Post and Courier says coworkers who had "close contact" with the infected North Charleston worker have been asked to "self-quarantine and self-monitor".
It says 31 total Boeing employees across company facilities have tested positive for coronavirus, though Boeing confirms only 29 cases.
Boeing does not specify how the outbreak has affected South Charleston. The company may release an updated number of infected employees later today, it says.
News first broke on 9 March that a Boeing employee had tested positive for the disease. That employee worked in Everett.