US company Eviation has lined up another potential buyer for its in-development electric aircraft Alice, with UK firm Monte Aircraft Leasing signalling its intent to acquire the type.
The UK lessor – a spin off of Montrose Global Aircraft Management – signed a letter of intent covering its potential acquisition of up to 30 Alice, a clean-sheet commuter aircraft intended to carry up to nine passengers, Eviation says on 11 May.
"Monte will provide financing and leasing solutions for the Alice and its associated charging infrastructure to its global customer base of regional aircraft operators," Eviation adds.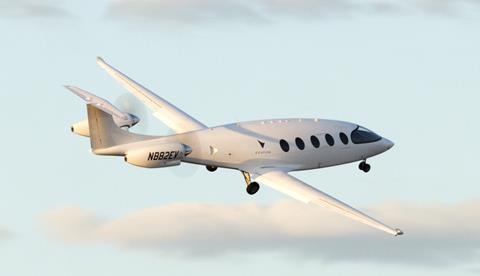 Based in Washington state, Eviation is working to bring Alice through certification, aiming to start certification test flights in 2025 and to deliver the first aircraft in 2027. Alice took off for the first time in September 2022; since that single flights, Eviation has disclosed few details about further programme progress.
"The Alice is a unique, well-designed and pioneering aircraft that we are excited to offer to our global customers in the regional aviation industry," says Monte director Rishi Majithia.
Eviation does not provide details about its agreement with Monte, such as whether Monte paid deposits against future orders. Asked to comment, Eviation says it "is not disclosing further details around customers agreements". Monte could not be reached for comment.
Aerospace analysts say companies typically put down little or no cash when committing to purchase novel in-development aircraft, like those with electric or hydrogen powertrains.
"With a network spreading from the Americas to Asia-Pacific and throughout Europe, I am excited for how Monte can utilise the Alice to bring sustainable aviation to the world," says Eviation chief executive Gregory Davis.
London-based Montrose Global in 2021 created Monte as a spin off focused on "financing and leasing zero-emission aircraft".
Monte has since signed various agreements with companies involved in developing and bringing to market electric and hydrogen-powered aircraft. Partners include Italian airframer Tecnam, Spanish electric aircraft specialist Dante Aeronautical and related Australian powertrain company Dovetail Electric Aviation, hydrogen-electric propulsion developer ZeroAvia, and US firm Ampaire, which is developing a hybrid-electic retrofit for Cessna Grand Caravans.
Eviation says it has secured Alice-purchase commitments from customers including Mexican regional airline Aerus, Air New Zealand, Australian's Northern Territory Air Services, Germany's Evia Aero, DHL and US carrier Global Crossing Airlines.
Alice is to fly at speeds up to 260kt (482km/h) and have about 250nm (463km) of range in visual flight conditions, plus an additional 30min of reserve flight time. Power will come from twin Magnix 700kW Magni650 motors.