United Airlines has disclosed a $15 million investment in electric air taxi developer Eve and conditionally agreed to purchase 200 of Eve's in-development aircraft.
The Chicago-based airline disclosed the deals with Melbourne, Florida-headquartered publicly traded Eve on 8 September. Eve is majority owned by Brazilian aircraft manufacturer Embraer.
"This marks another significant investment from United in flying taxis," the carrier says, adding that such aircraft have "potential to revolutionise the commuter experience in cities around the world".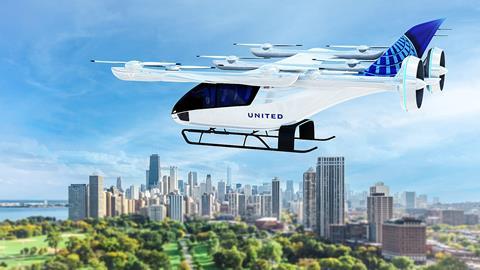 "United's investment in Eve was driven in part by confidence in the potential growth opportunities in the [urban air mobility] market and Eve's unique relationship with Embraer, a trusted aircraft manufacturer," United adds.
The aircraft deal is a "conditional purchase agreement" to acquire 200 of Eve's four-seat electric vertical take-off and landing (eVTOL) taxis. United also secured options to buy a further 200 of Eve's taxis.
It expects deliveries of the novel design could begin as soon as 2026.
"United's investment in Eve reinforces the trust in our products and services and strengthens our position in the North American market," says Eve co-chief executive Andre Stein.
United does provide additional details about the investment and did not immediately respond to a request for more information. It intends to join Eve in studying the "development, use and applications" of air taxis.
Michael Leskinen, president of United Airlines Ventures, the company's in-house technology investment arm, frames the Eve deal as reflecting United's commitment to achieving so-called "net zero" carbon emissions by 2050.
United has been an early supporter of the burgeoning but unproven air taxi sector. In February 2021, the airline said it agreed to purchase 200 of an eVTOL being developed by Eve competitor Archer Aviation.
The eVTOL agreements remain subject to considerable uncertainty, including the developers' success in achieving regulatory certifications for their designs.
Eve's conceptual four-seat aircraft will have 54nm (100km) of range, the company says. The design includes conventional wings, with rotors and pusher props.
Eve has long stressed the importance of its relationship with Embraer, saying the Brazilian airframer's engineering and certification support will provide valuable assistance with the difficult process of achieving regulatory acceptance.
United says its deal with Eve also "includes access to Embraer's service centres, parts warehouses and field service technicians".
"Upon entry into service, United could have its entire eVTOL fleet serviced by Eve's agnostic service and support operations," the airline adds.