Investment arms of Airbus and JetBlue Airways are among entities that have invested a combined $20.5 million in Universal Hydrogen, the Paul Eremenko-backed firm developing a hydrogen-fuel distribution and storage system.
The investments came from Airbus Ventures and JetBlue Technologies Ventures, Universal says on 22 April. The companies have not specified how much of the $20.5 million they contributed.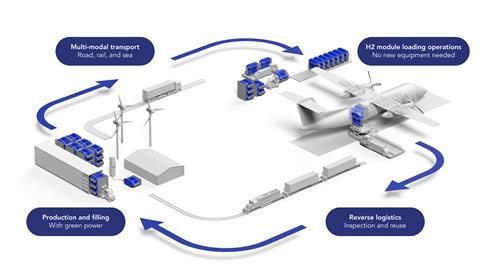 Other investors contributing to funding include an arm of Australian mining company Fortescue, hydrogen technology company Power Plug, Toyota AI Ventures and Sojitz, a Japanese company that acts as a sales agent for commercial aircraft, Universal says.
The $20.5 million brings Los Angeles-based Universal's "total funding" to $23.5 million, the company says.
Eremenko, formerly an executive at Airbus and United Technologies (now Raytheon Technologies), unveiled his new company Universal in August 2020.
The firm plans to develop a system of storing and transporting hydrogen fuel for the aviation industry, with the aim of supplying hydrogen to a future-generation of hydrogen-powered airliners.
It aims to develop hydrogen-fuel capsules that can be loaded on aircraft, a related transportation network and "conversion kits to retrofit existing 40-60-passenger regional airplanes with a hydrogen-fuel-cell power train", Universal says.
The company will equip a De Havilland Canada Dash 8-300 with the system as a demonstrator. Magnix, which is contributing to several electric-aircraft projects, will provide the modified Dash 8's electric-propulsion system.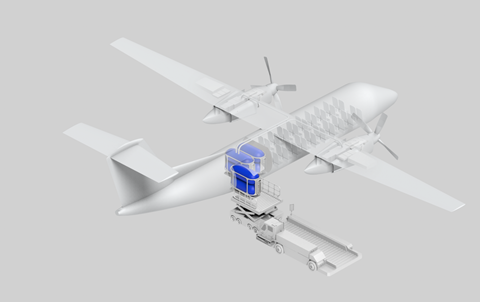 "Today's financing allows Universal Hydrogen to accelerate the development of its hydrogen logistics network and regional aircraft conversion kits, and bolsters the company's burgeoning commercial activities", it says. "First commercial flights are planned no later than 2025, with operating costs equivalent to those of conventional hydrocarbon-burning airplanes, and decreasing rapidly thereafter."
Universal's advisors include former Airbus chief executive Tom Enders and former Airbus chief commercial officer John Leahy.
Eremenko last year estimated Universal would need $300 million in funding to make its vision a reality. In February, the company disclosed receiving an investment of an undisclosed sum from San Francisco-based Trucks Venture Capital.
By tackling the challenges of storing and transporting hydrogen fuel, Universal aims "to de-risk the decision for Airbus, Boeing and Comac to make their next new airplane in the 2030s a hydrogen-powered one", Eremenko says.
Story updated on 23 April to clarify that funding came from the investment arms of Airbus and JetBlue. Airbus Ventures clarifies that it is an "independent venture arm of Airbus" and that it has partners besides Airbus.