Express package delivery company UPS has acquired options to buy up to 150 electric vertical take-off and landing (eVTOL) aircraft from Vermont-based developer Beta Technologies, with deliveries planned to start in 2024.
The deal advances UPS's efforts to integrate drone operations into its massive air cargo network, building on projects already underway through its drone-operating division, UPS Flight Forward.
The agreement also marks a major win for Beta, which is developing an all-electric aircraft called the ALIA-250.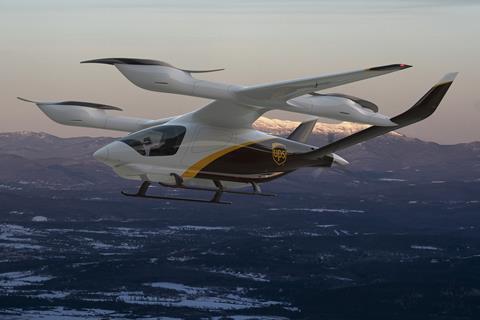 The aircraft UPS intends to acquire will have 1,400lb (635kg) of cargo payload capacity, 217nm (402km) range and cruising speed of 148kt (274km/h), says UPS.
"These new aircraft will create operational efficiencies in our business, open possibilities for new services and serve as a foundation for future solutions to reduce the emissions profile of our air and ground operation," says UPS chief information and engineering officer Juan Perez.
Beta's aircraft has four fixed, vertically-positioned props for lift and one pusher prop at its tail. The eVTOL's batteries will be capable of being charged in 1h or less, UPS says.
The Atlanta-based shipping giant intends to use the aircraft "to augment its air service for select small and mid-size markets". The eVTOLs will operate from and between UPS facilities, giving the company a faster, less-expensive means of shipping packages to smaller markets, UPS says.
"We can turn relatively small spaces at existing UPS facilities into a micro air feeder network without the noise or operating emissions of traditional aircraft," says Beta founder and chief executive Kyle Clark.
Beta is marketing its ALIA-250 in both a passenger configuration with six seats and a cargo configuration with 5.7cb m (200cb ft) of available cargo space.
The aircraft has distributed "direct-drive electric" propulsion system with air-cooled motors.
It is designed to land on what Beta calls its "multi-featured charging pad", which is composed of a landing deck atop a structure that houses a control centre and rest area.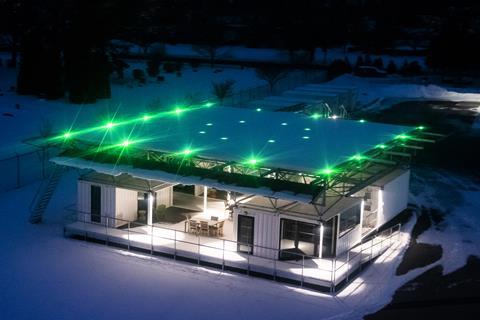 In March, Beta flew its aircraft from Plattsburgh, New York to its headquarters in the Burlington area of Vermont, a distance of about 17nm.
Beta recently became a member of the General Aviation Manufacturers Association, the group said in March.
Prior to founding Beta, CEO Clark was director of engineering at energy storage company Dynapower. He holds an applied math degree from Harvard University.
In 2019, the US Federal Aviation Administration granted UPS Flight Forward a Part 135 operating certificate, which allows the company to conduct beyond-line-of-sight, revenue-generating package delivery flights using drones, according to the agency. UPS Flight Forward has operated a quadcopter drone called M2, which has 5lb payload and is manufactured by California-based Matternet.
UPS is now "operating daily revenue-generating flights with drones", says the company.