The US government is seeking to seize a Boeing 737 business jet owned by Moscow-based oil and gas company Lukoil due to alleged violations of US-imposed sanctions against Russia.
The Department of Justice (DOJ) says government officials have secured a warrant granting them authority to take the jet, saying the aircraft has been flown in violation of economic restrictions in response to Russia's February invasion of Ukraine.
The news comes several months after the DOJ said it was seeking to seize a 787-8 and a Gulfstream G650ER for similar reasons.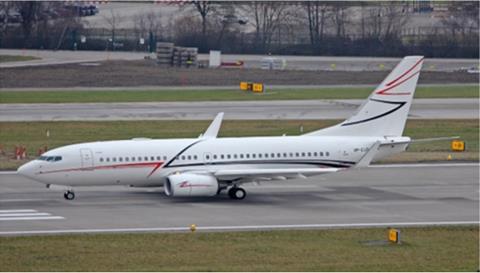 The Lukoil 737 Boeing Business Jet, with registration VP-CLR, "flew into and out of Russia in violation of the Department of Commerce's sanctions", the DOJ says on 31 August, without being more specific.
The US government began levying sanctions against Russia in March. The measures include prohibitions on the transfer of "US-manufactured aircraft to or within Russia without a valid license", the DOJ says.
The 737 has a value of $45 million and is now likely located in Russia, the DOJ says. Boeing built the jet in 2006, according to Cirium data.
A judge with US District Court for the Southern District of Texas authorised the seizure. The 737 last flew to the USA in March 2019, when it landed in Houston carrying Lukoil's then-chief executive Vagit Alekperov.
The 787-9 and G650ER subject to the previous seizure order were owned by Russian billionaire Roman Obramovich. The DOJ did not immediately provide an update about its efforts to seize the jets.