Pilot union Allied Pilots Association (APA), which represents pilots at American Airlines, opposes an equipment certification exemption for Boeing's 737 Max 7 and Max 10 aircraft.
The certification deadline for those two models is the end of this year, but according to a letter from the Federal Aviation Administration (FAA) to a federal government committee, first reported by Reuters on 4 October, Boeing does not anticipate it will receive that regulatory approval in time. As a result, the US airframer would be required to make changes to crew alerting systems in the cockpit.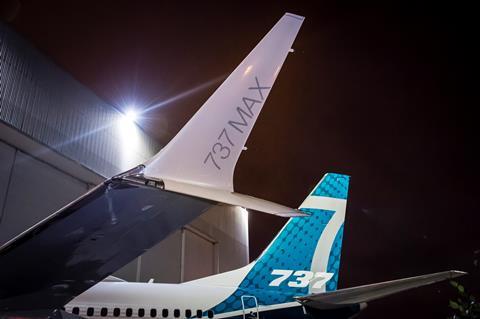 "We oppose any extension of the exemption and don't agree with Boeing's claim that pilots could become confused when moving from an airplane without the modern alert system to one that is equipped with it. Nothing could be further from our flight deck reality," APA president Edward Sicher says.
"Boeing needs to proceed with installing modern crew alerting systems on these aircraft to mitigate pilot startle-effect and confusion during complex, compound system malfunctions," he adds. "Once these systems are installed and pilots have been properly trained on them, our crews will be better able to identify system failures and prioritize corrective actions that could save lives."
According to Cirium fleets data, Fort Worth-based American Airlines has no pending orders for either the Max 7 or the Max 10 aircraft. It currently operates 42 Boeing 737 Max 8 aircraft, and has a further 87 on order. It also operates 279 examples of the previous-generation 737NG series.
American's major airline competitors, however, have almost 500 of the two jet models on order with Boeing. United Airlines has 237 and Delta Air Lines has 100 of the Max 10 on order, and Southwest Airlines has 160 Max 7s on order.
The cockpit alert requirement comes from a law signed by President Donald Trump on 27 December 2020. Starting two years after its enactment, the FAA cannot certificate transport aircraft lacking a "flight crew alerting system" - which the already-certificated Max versions, the Max 8 and the Max 9, lack. That requirement stemmed from two 737 Max crashes in 2018 and 2019, which killed almost 350 people.
The US airfamer has been working to get the aircraft certificated before the December 2022 deadline but had been late in providing some 737 Max 7 assessments to the FAA, cutting the agency's available time to certificate the jet. The FAA brought the timeline crunch to Boeing's attention in a 19 September letter to Mike Fleming, Boeing's senior vice-president of the 737 Max's return to service.
As recently as 21 September, Boeing chief executive David Calhoun said he thought the Max 7 would make the December deadline, but was less optimistic that the Max 10 would be ready.
At the time, Calhoun said Boeing would seek an "extension" if the Max 7 or 10 certifications extend beyond the deadline.
In recent months Qatar Airways and Canada's WestJet have also placed substantial orders for the 737 Max 10.