Canadian airframer Viking Air confirms it has delayed the launch of its CL-515 First Responder firefighting aircraft, citing the Covid-19 pandemic.
The Sidney, British Columbia company had previously intended to launch the programme in 2020. Earlier this year, it pushed back the launch to the fourth quarter.
"Unfortunately, due to the effect of Covid-19 on Viking's operations and the pandemic's impact on governments, their citizens and budgets globally, we have elected to slide the formal launch of the CL-515 until we see a stabilisation in the global economic situation and a return to normal daily activities," Viking executive vice-president of sales and marketing Robert Mauracher tells FlightGlobal.
Viking does not elaborate on when the formal launch of the aircraft might happen.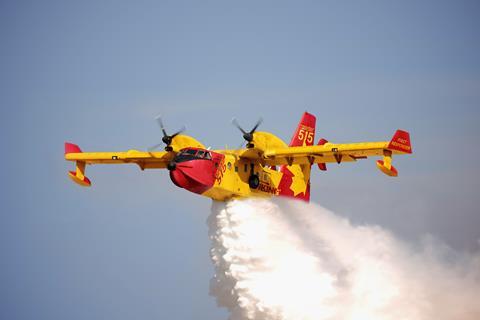 The CL-515 is to be a new-build variant of Viking's stalwart CL line of water bombers and special mission aircraft. Previous versions include the original CL-215, the CL-415 and the CL-415EAF, which are upgraded CL-415s.
In 2019, Indonesia became the CL-515's launch customer when it ordered six of the type, with deliveries, at that point, set for 2024.
Powered by Pratt & Whitney Canada PW123AF turboprops, the CL-515 is to have Collins Aerospace's Pro Line Fusion digital cockpit, and more capability than previous variants. It will have better corrosion protection, increased landing weight and 7,000 litres (1,850USgal) of water capacity, up from the CL-415's 6,000-litre capacity, Mauracher said in 2018.
Viking parent Longview Aviation Capital acquired the CL programme from Bombardier in 2016.
The airframer calls the CL-515 a "production multi-mission amphibian and purpose-built aerial firefighting aircraft".
Mauracher has said Viking envisions CL-515s with advanced sensors for use in search and rescue and maritime surveillance roles. Viking was also considering a boom system for spraying insect repellent or oil suppressant, and a large cargo door for medevac work, he has said.
Indonesia's order included four CL-515s in "first responder" multi-mission configurations, and two as aerial firefighters.