Widebody programme troubles pushed Wichita airframe manufacturer Spirit AeroSystems to a $52.8 million loss in the first quarter of 2022.
But that loss came on first-quarter revenue that surged 30% year on year, to $1.2 billion, due largely to a healthier narrowbody aircraft segment, Spirit reported on 4 May.
In addtion, the negative earnings figure is still an improvement on the same period of 2021 when Spirit lost $172 million.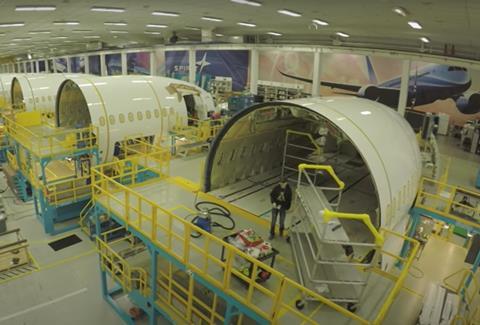 "Our recovery continues despite ongoing challenges from the Covid-19 pandemic, the Russia/Ukraine conflict, supply chain disruptions and inflation," says Spirit chief executive Tom Gentile.
"Our factories continue to meet deliveries to our customers, but we have seen downward revisions in schedule to some programmes."
Spirit attributes its improved first-quarter revenue "to higher production deliveries on the Boeing 737, Airbus A220 and Airbus A320 programmes, as well as increased aftermarket revenue".
"On the 737 Max, our largest programme, we have recently increased production to 31 shipsets per month and currently expect to hold at that rate for the remainder of the year," says Gentile. That aligns with Boeing's goal of producing 31 737s monthly this year.
But a bevy of costs and charges offset the improving narrowbody segment: Spirit took a $23.8 million forward loss due to "further production rate decreases and costs of rework on the Boeing 787 programme, as well as increased costs of quality, and production rate decreases, on the Airbus A350 programme", it says.
Other charges included $26.2 million due to "increased estimates for supply chain, raw material and other costs related to the Boeing 737".
Spirit's first-quarter loss also reflects $49.8 million in "excess capacity costs" and $9.5 million in "abnormal costs related to Covid-19", it says.
In the first three months of 2022 Spirit shipped fuselages for 60 737s, up from 29 in the first-quarter of 2021. It also delivered components for 18 A220s, up from 12 one year earlier, and 155 A320-family jets, rising from 130 last year.
But Spirit delivered components for only three 787s, down from 15 in the same period of 2021. Boeing's 787 deliveries have been halted for most of the last 18 months due to manufacturing quality problems.
Spirit's shipments of products for Airbus widebody jets inched higher in the first quarter. It delivered components for six A330s, up from five, and for 15 A350s, up from 12.