Urban air mobility developer Wisk will later this year begin a trial programme in New Zealand that is intended eventually to involve passenger flights on the company's autonomous electric aircraft, Cora.
Though Wisk says the trial programme will begin this year, it does not this year intend to carry passengers on Cora.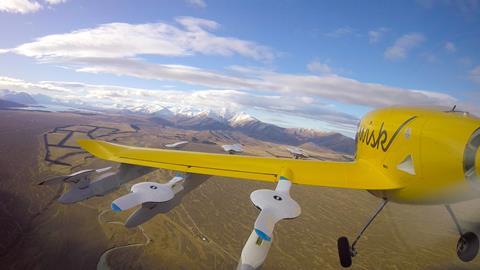 A joint venture between Boeing and Kitty Hawk Corporation, Wisk disclosed in February that it partnered with New Zealand's government to perform a "transport trial" with Cora.
The trial is based in Canterbury, New Zealand.
"Since then, both parties have been undertaking detailed planning of a highly structured and integrated programme, with implementation of the trial expected to start in the second half of 2021", Wisk says on 29 March.
"We will not be carrying passengers for the implementation phase," Wisk tells FlightGlobal. "The… implementation phase of the trial is focused on understanding and collecting data to support safe integration of [unmanned aircraft] into the airspace system."
The company is performing the work, which includes simulations and data analysis, with government agencies and New Zealand's air service navigation provider, it says. "The goal of this is to provide robust, platform-agnostic data that can be used by governments, [air navigation service providers] and civil aviation authorities to advance standards globally."
Additionally, on 29 March Wisk says it has partnered with Insitu Pacific, a Boeing-owned company that produces military drones and unmanned air vehicle technology.
Wisk does not specify what services Insitu will provide.
Cora is an electric vertical take-off and landing (eVTOL) aircraft with 12 rotors mounted along its wings. Designed to fly at 1,500-5,000ft altitude, Cora has about 22nm (40km) of range and can reach speeds of about 87kt (161km/h), according to Wisk.
Cora has "three independent flight computers" for redundancy, says Wisk, which has been flying Cora in New Zealand since 2017.
The trials are part of New Zealand's Airspace Integration Trial Programme, which aims to support unnamed aircraft testing and integration into the nation's airspace.
The Civil Aviation Authority of New Zealand and US Federal Aviation Administration have granted Coro an experimental airworthiness certificate.
Story updated on 29 March to clarify that the first step of the flight programme involves testing and data analysis. It does not involve passenger transport in 2021.