When the airline industry eventually emerges from the worst of the Covid-19 pandemic, it will be more indebted than ever.
For businesses that have needed to turn to governments for financial help, that new debt is perhaps being felt even most acutely, as carriers regress to something closer to the era where state-owned flag carriers were the norm.
Under the leadership of Carsten Spohr, Lufthansa Group will be a case study in how this impacts airlines as the recovery gathers pace.
Tellingly for a group that has become accustomed to making decisions on its own terms, Lufthansa appears keen to pay back government debts as quickly as possible, by, among other measures, considering the sale of business units and opportunities to tap financial markets.
As those efforts continue, Spohr has swingeing cash burn to deal with.
Speaking during a Eurocontrol event in January, he explained that Lufthansa Group is losing €1 million ($1.2 million) every two hours amid the Covid-19 crisis – an improvement from losing the same amount every hour at points in 2020.
He described that progress as "a significant improvement", but says it is "still hurting".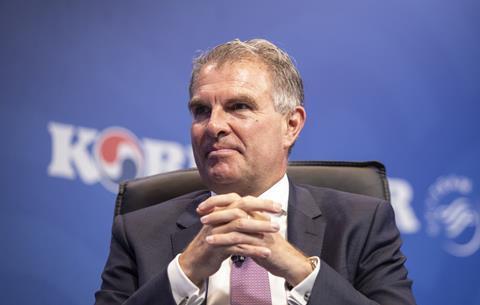 The reduced losses reflect a cost-cutting initiative driven by the group's ReNew restructuring programme, which has "gone a lot faster than we would have thought."
Indeed, despite continuing losses, Spohr points out that Lufthansa has so far "just taken" €3 billion of the €9 billion available to the group in government loans. While not downplaying the importance of that support, Spohr "does not believe we need all €9 billion, depending how the year plays out".
Nevertheless, "like all global peers, Lufthansa needed to turn to governments to stabilise the business", he says.
For now, the carrier is working on the basis that there will be a "sharp recovery, somewhere around the summer period", as testing and vaccination programmes enable governments to release restrictions.
Lufthansa therefore sees a range of scenarios where the group reaches 40%-60% of 2019 traffic levels for full-year 2021.
"I hope we won't be much off either way," Spohr states, speaking before the German government tightened its border restrictions.
As that plays out, the ReNew programme is "a unique opportunity… to come out as a more leaner company", Spohr says. Among the ReNew programme's initiatives, "we took four-engine aircraft out, we grounded the A380 fleet, we took the A340-600 out and we don't plan to bring them back", Spohr says.
"So that is a significant fleet modernisation happening by the fact that we are now a smaller airline, and just by the nature of it, we are modernising our fleet faster."
At the same time, Spohr says Lufthansa has cut "every fifth staff member" so far.
The group has seen 29,000 employees depart from its pre-pandemic workforce of 135,000, with 106,000 left today, he explains.
"There will be more people who will leave, but it has to be done to adjust for the new normal and to survive the crisis," Spohr states.