Singapore Airlines chief executive Goh Choon Phong is in for another tough year, amid the pandemic and the grounding of the carrier's multi-hub strategy.
Of the SIA Group's 185 aircraft, only 64 passenger jets and seven freighters were in service in early February, with 123 jets parked. Passengers carried fell 97.5% in the last three months of 2020.
While the airline is gradually adding back capacity, its home city of Singapore is all but entirely sealed off for international travel. Although the Singapore government has allowed non-quarantine travel from countries deemed to have Covid-19 under control, governments overseas have largely failed to reciprocate.
To Goh's credit, he moved fast to boost the group's liquidity in early 2020, through an S$8.8 billion rights issue supplemented by aircraft financing, the issue of convertible bonds, and credit lines.
SIA can also continue to count on the rock-solid support of Singapore's sovereign wealth fund, Temasek Holdings, which owns 56% of the SIA Group.
In short, SIA won't die, but Goh will need a strategic re-think as Asia-Pacific emerges from Covid-19 and tentative travel returns.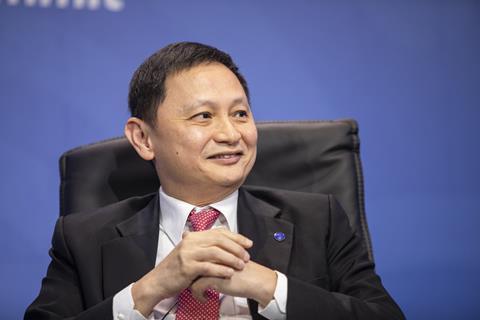 A major pillar of his strategy for the carrier was a 'multi-hub' approach centered on stakes in overseas airlines, such as Thailand's NokScoot, in which it owned 49%, Virgin Australia, in which it owned 20.1%, and India's Vistara, in which it owns 49%.
NokScoot's collapse in June 2020 saw SIA take a $127 million charge, and it had to write off its entire stake in Virgin Australia when Bain Capital assumed control of the collapsed carrier.
As for SIA's India adventure, if 51% shareholder Tata Group takes over Air India, which seems likely, it will probably merge the flag carrier with Vistara. This could leave SIA as a minor partner in a rejuvenated Air India.
SIA's recovery is inevitable, but it will be a long, difficult road, focusing on routes to and from Singapore, with support from codeshare partners and joint ventures.
Goh's objective for the next few years will not be about multiple hubs and overseas ventures, but resetting SIA to the hub carrier it has always been.