US business aviation company Volato has ordered 25 of Honda Aircraft's recently updated HA-420 HondaJet Elite II.
Volato, which sells charters and offers a fractional-aircraft ownership programme, disclosed the order on 1 December. It does not say when it expects to take delivery of the light jets.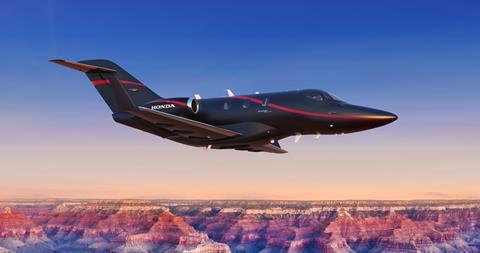 "We believe in the vision and future of Honda Aircraft Company as they continue to optimise the private jet experience with the HondaJet," says Volato chief executive Matt Liotta. "We are working directly with Honda Aircraft Company to optimise the features and functionality of the galley, leading to a more luxurious in-cabin experience."
Volato says the order will bring its eventual fleet of HondaJets to more than 40 aircraft. Cirium fleets data shows the company now operates four HondaJets and holds separate orders for another 14. It also has orders for four Gulfstream G280s.
Honda Aircraft revealed the updated Elite II variant of the HA-420 light jet on 17 October during the NBAA business jet convention in Orlando. The Elite II builds on the previous-generation HA-420 Elite S, which the company rolled out in 2021.
Honda Aircraft, based in North Carolina, gave the Elite II upgraded avionics, software and mechanical and electrical systems. Most notably, it increased the type's allowable weight, giving it more range.
The Elite II's maximum take-off weight comes in at 5,035kg (11,100lb), about 200lb more than that of the Elite S. Thanks to increased fuel capacity, the Elite II has maximum range of 1,547nm (2,865km) with four people aboard – 110nm more than the Elite S.
HondaJets can carry up to seven passengers and are powered by twin, over-wing-mounted GE Honda Aero Engines HF-120s, each delivering about 2,050lb (9.1kN) of thrust. It can cruise at 422kt (782km/h) and as high as 43,000ft.
Volato's subsidiary companies operate its aircraft, the company's website says.
The US Federal Aviation Administration issued the Elite II's type certificate on 2 November.