AerCap has placed a firm order with Elbe Flugzeugwerke (EFW) for 15 Airbus A321 passenger to freighter (P2F) conversions, while taking options on 15 more.
The lessor says the aircraft will come from its own portfolio of passenger jets, with deliveries from EFW expected in the 2023-2025 timeframe.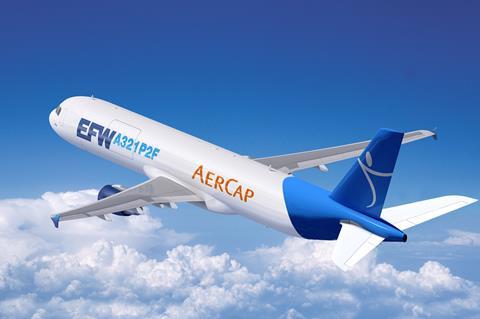 "Extending the life of our A321 fleet will complement the cargo portfolio and meet the strong demand from our diverse customer base, from which we've seen a significant appetite for this freighter," says the head of AerCap Cargo, Rich Greener. "The A321 freighter is the best-in-class and most fuel-efficient aircraft to replace the Boeing 757-200 freighter."
Cirium fleets data indicates there are more than 300 757-200 freighters in service globally, including examples with major integrators such as DHL, FedEx and UPS.
AerCap's most recent fleet update suggests it had 62 A321s in its portfolio of more than 1,800 aircraft, as of 30 June 2022.
EFW chief executive Jordi Boto notes that the conversion specialist's A320P2F-family programme has gone "from strength to strength" since Qantas put the first A321P2F into service in October 2020. The first example of the smaller A320P2F was delivered earlier this year to launch customer Vaayu Group.
EFW is a joint venture between Airbus and ST Engineering.