Long-serving Aeroflot Group chief executive Vitaly Saveliev is set to become Russian transport minister after he was nominated for the role by prime minister Mikhail Mishustin.
The transport ministry says that Saveliev will take over, following a Russian presidential decree dated 10 November.
Saveliev has led the Russian carrier group since April 2009. He was re-elected to the role for a further five years in August 2018.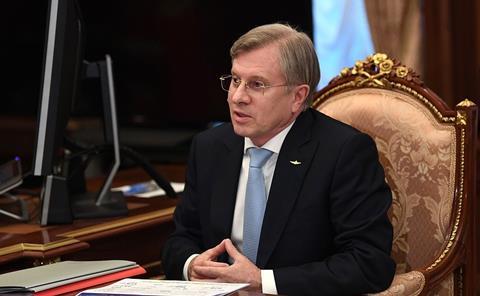 Mishustin outlined Saveliev's nomination as new transport minister on 9 November as part of a wider Russian cabinet reshuffle. Current transport minister Yevgeny Ditrikh is among the ministers being replaced.
Saveliev has risen from an initial engineering position at a hydroelectric power station in the late 1970s, when Russia was still part of the Soviet Union, through to serving in the St Petersburg – then Leningrad – administration for city infrastructure.
He turned to the finance and banking sector as the Soviet Union broke up, before taking up a position as deputy chairman of the energy firm Gazprom, and became the deputy minister of economic development and trade during 2004-07 before serving in a high-level role at conglomerate Sistema.
Saveliev was subsequently elected to head Aeroflot from 2009 and the company, under his leadership, has expanded into a group including operator Rossiya and low-cost carrier Pobeda, as well as eastern airline Aurora.