Hong Kong International airport (HKIA) saw passenger volume drop 98.6% to just 800,000 passengers in its 2020/21 fiscal year to 31 March, but remains on track to complete its third runway as it works on closer collaboration with nearby Zhuhai airport.
Flight movements dropped 66.2% to 127,760 amid the coronavirus pandemic, but cargo throughput remained "resilient," dropping just 2% to 4.6 million tonnes, says the airport in its annual report.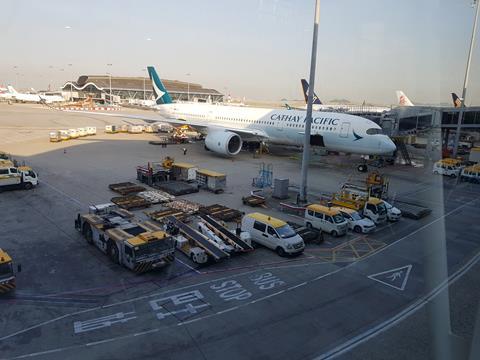 Owing to the disappearance of bellyhold capacity amid the collapse in passenger traffic, freighter movements rose 24%.
Revenue dived 65.3% for the year to HK$5.9 billion ($759 million), as HKIA swung to a net loss of HK$4.4 billion, from a net profit of HK$5.9 billion a year earlier.
A key element in HKIA's planning is its three runway system. HKIA reports that land reclamation work has progressed well, and that the third runway will enter service in 2022.
HKIA is also looking at ways to further integrate into China's Pearl River Delta. This includes closer collaboration with Zhuhai airport, which lies 40 miles (65km) away by ferry.
"To stimulate traffic growth, Zhuhai airport is working with HKIA to develop a cross-boundary transit service," says HKIA. "This would provide Zhuhai airport with access to international destinations and let HKIA tap Zhuhai airport's extensive domestic network. A similar arrangement is under discussion for cargo."
Zhuhai, for its part, is adding a new terminal and taxiways, which will increase annual passenger capacity from 12.5 million to 27.5 million by 2023.
"While HKIA recorded a significant drop in passenger traffic, cargo volumes however remained resilient," says HKIA chairman Jack So Chak-kwong.
"Our investments in high-value, high-growth segments – such as express transshipments, cold storage and pharmaceuticals – over the past few years helped us meet surging demand for e-commerce and medical cargo during the pandemic. As a result, we retained our position as the world's busiest international cargo airport."