Air Arabia Group's third-quarter revenue of Dhs1.61 billion ($436 million) was 12% up on the same period of 2019, as the low-cost group benefited from the recovery in air travel demand.
It outlined its July-September earnings on 9 November, days after its latest joint-venture operation, Pakistani carrier Fly Jinnah, commenced operations from Karachi.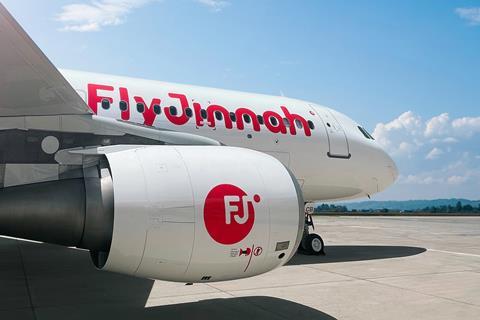 The Sharjah-based low-cost group reported a third-quarter operating profit of Dhs340 million, a net profit of Dhs416 million and passenger numbers of 2.42 million, with all three measures being more than double those recorded for the third quarter of 2021.
The traffic figure was just shy of third-quarter 2019 passenger numbers of 2.58 million.
Describing a "solid operational and financial performance" for the period, Air Arabia says it retains "cautious optimism" for 2023, despite economic and geopolitical headwinds.
And while the first aircraft from the group's order for 120 Airbus A320neo-family jets is not due to arrive until 2024, it has already expanded its capacity beyond pre-Covid levels by 10 jets.
The 68 Airbus narrowbody aircraft in its fleet include three with Fly Jinnah, while 42 are based in Sharjah, nine are with Air Arabia Maroc, eight are with Air Arabia Abu Dhabi and four are with Air Arabia Egypt, the group says.
Its Armenian joint venture Fly Arna – which commenced operations in July this year – accounts for the final two aircraft.
In September, Air Arabia announced plans to launch a new joint-venture carrier in Sudan with local conglomerate DAL Group.