Air Baltic chief executive Martin Gauss remains committed to restarting flights to Ukraine as soon as its war with Russia ends.
Gauss says that Russia accounted for "below 3%" of the Latvian carrier's revenue projection or 2022, and Ukraine "below 9%."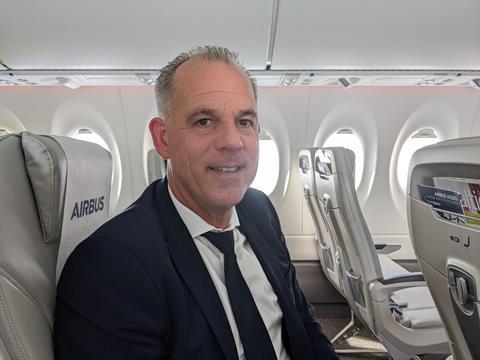 Once the war is over, however, Air Baltic is adamant about returning to Ukraine immediately. It sells tickets one month out to the Ukrainian destinations of Kiev, Lviv, and Odessa. Every night, three aircraft are overnighting in Riga. These could be immediately dispatched for Ukraine flights once the war ends.
"If you look at it today, you see these horrible pictures, and you would say it might take ages," says Gauss.
"But once the war is over – and nobody knows when – but if it's over tomorrow, the day after we are going to go in again because we want to help rebuild that country. The Baltic states are on the border of Russia and Belarus, and we fully understand what it means to have such a situation."
The carrier stopped flights to Russia and Ukraine following Moscow's attack against Ukraine.
Air Baltic has partially offset the revenue impact of the conflict by wet leasing aircraft to the Lufthansa Group and SAS, as well as adding capacity on other routes.
Gauss spoke with FlightGlobal aboard an Air Baltic-operated Airbus A220-300 (YL-ABH). The aircraft was in Southeast Asia as part of a promotional tour sponsored by the airframer.
Cirium fleets data indicates that Air Baltic has an inventory of 28 A220-300s with 16 on order. In addition, it operates one A319 and two 737s. It also has 12 De Havilland Canada Dash-8 Q400s that are listed as being in storage.
Apart from the complications thrown up by Russia's invasion of Ukraine, Gauss says that forward bookings for Air Baltic are looking good. Post-pandemic demand is largely being driven by visiting friends and relatives and leisure traffic, while business traffic is lagging.
He attributes the shortfall in business traffic to the increased use of on-line meeting tools caused by the coronavirus pandemic, as well as broader environmental concerns. Still, Gauss is optimistic that business traffic too will eventually recover.
"Corporate travel as it used to be will not return in the same way, but what we will see is a more sustainable approach to it. And, of course, the cheapest ticket is still the most important thing."
At the current rate of recovery, Gauss expects that in 2023 Air Baltic could hit 2019 traffic levels. Air Baltic now operates 99 routes and leisure travel demand should push this to 100 by year-end.
As for the A220-300, Gauss says the type has delivered a dramatic performance improvement over its previous fleet of 737-300s. In addition, it has allowed for new long-range routes, namely Air Baltic's 7h Riga-Dubai service.