Air Canada is seeking newly available federal wage subsidies for 36,000 domestic employees, including roughly 16,500 workers who have already lost their jobs.
The Montreal-based carrier has also expanded a cost-cutting programme and borrowed additional funds in response to the coronavirus crisis, it said on 8 April.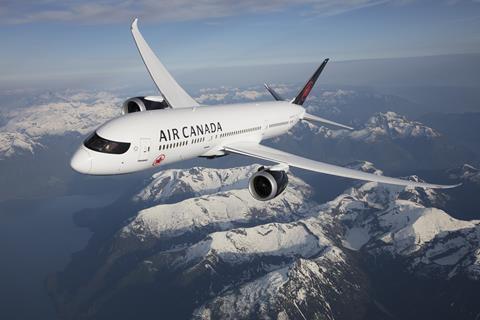 The airline will apply for the funds via the "Canada Emergency Wage Subsidy" programme, which has made C$71 billion ($50.6 billion) available to companies that have seen revenue decline by at least 30% due to the coronavirus pandemic.
The programme reimburses up to 75% of employees' salaries, to a maximum of C$847 weekly, according to the government's website.
Air Canada announced the 16,500 job cuts on 30 March, and the Canadian government passed its coronavirus relief package on 1 April.
In recent weeks, the airline has slashed seat capacity by 85-90% due to the coronavirus crisis and is "incurring significant revenue losses", it says.
"Once the crisis passes and passenger demand increases, we look forward to returning as many employees as possible to active status as we resume normal operations," says Air Canada chief executive Calin Rovinescu.
In addition to applying for wage subsidies, Air Canada has broadened a company-wide cost-reduction and capital deferment plan. It now expects to save C$750 million this year, up from a previous C$500 million target.
Air Canada has also borrowed an additional $1 billion, and Rovinescu and chief financial officer Michael Rousseau have agreed to forgo all their salary.
Air Canada has cut other senior executives' salaries 25-50%, and trimmed managers' salaries 10%, it says.