Air China is to sell eight Airbus A330-200s to its cargo unit Air China Cargo in a deal worth up to $114 million, as part of fleet optimisation efforts and to "improve the economic benefits" of aircraft disposal.
In a filing dated 26 April, the Beijing-based carrier says the widebodies – its eight oldest A330s – will be transferred to the cargo unit from this year through 2025. Air China did not disclose how and where the aircraft will be converted into the freighters.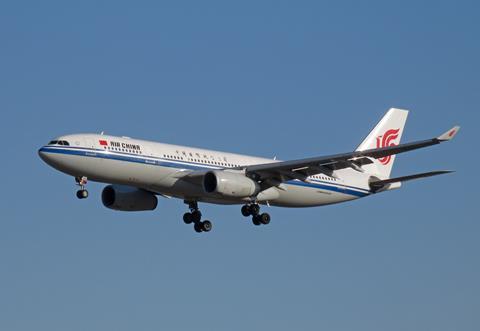 The base price for each A330 is around $14.7 million, "subject to the price adjustment mechanism" for any difference between delivery conditions and the half-life condition of the aircraft. Still, Air China notes the final price consideration will not exceed the base price it listed.
The eight A330s to be sold are between 15 and 17 years old, says Air China. According to Cirium fleets data, these are likely to be MSNs 750, 756, 759, 839, 860, 867, 873 and 884.
The aircraft are powered by Rolls-Royce Trent 772 turbofans, and have clocked between 9,300 and 12,500h of flying.
Cirium fleets data also shows the Star Alliance carrier to have a fleet of 17 other -200s, in addition to 28 more -300s.
"By entering into the aircraft sale and purchase agreement, the company will dispose of the aircraft with relatively longer average age to optimise the structure of the group's aircraft fleet, and effectively control delivery costs through a reasonable pricing mechanism and optimised delivery terms, and improve the economic benefits of aircraft disposal," Air China states.
In fleet plans disclosed in its full-year results for 2022, Air China listed phasing out four A330s this year, another four in 2023, and two more in 2025.