Norwegian's exit from the long-haul sector is helping to drive "very impressive yields" for Air France at its Paris Charles de Gaulle hub.
The Scandinavian carrier announced it would drop its long-haul services in January 2021 – formally scrapping a host of pre-Covid US services from Paris in the process – as it sought to streamline its business amid the pandemic and a longer-term struggle for profitability.
Speaking during an earnings call on 29 July, Air France-KLM chief executive Ben Smith said Norwegian's retrenchment had taken "an enormous amount of pressure off our economy yields on the transatlantic" and that he expected that advantage to continue through the rest of 2022.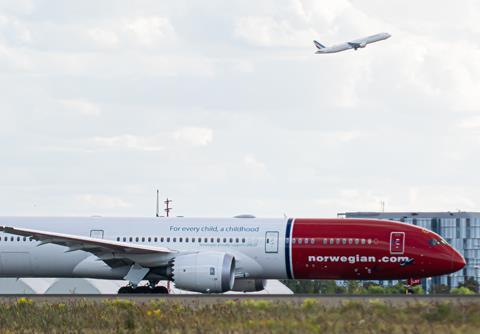 "Here in Paris we are seeing continued very impressive yields, in part because one of our biggest competitors, Norwegian, who was flying from Paris westbound into some of our biggest markets in the United States, ceased operations," Smith states.
"I see continued improvement in yield versus 2019, helped by a changed competitive environment," he adds.
Smith was speaking as Air France-KLM announced it had achieved its first net profit since 2019 in the second quarter of 2022 amid a "boom" in revenue. He notes that the group's transatlantic capacity was already above 2019 levels across the three months, with US dollar-denominated sales particularly attractive given the currency's current strength.
Cirium schedules data shows that in July 2019, Norwegian was operating to destinations including Denver, Fort Lauderdale, New York JFK, Los Angeles, Orlando and Oakland from Paris Charles de Gaulle.
Start-up low-cost long-haul carrier Norse Atlantic Airways has discussed launching Paris services but is yet to make a firm commitment, focusing so far on flights from Berlin, London Gatwick and Oslo.