Air France-KLM is studying consolidation opportunities in Europe and beyond as the exclusivity period for negotiations on an ITA Airways stake comes to an end, but also cites options to expand within the limits of its current operations.
Speaking during an earnings briefing on 28 October, group chief executive Ben Smith said the Italian market "has always been difficult" but that "discussions continue" regarding the bid from a Certares-led consortium – in which Air France-KLM is a commercial partner alongside Delta Air Lines – for a stake in Alitalia successor ITA.
He confirms that the exclusivity agreement is due to lapse on 31 October.
Whatever happens in Italy, "we are studying other potential consolidation opportunities in Europe and elsewhere", Smith states.
Notably, Air France-KLM will "definitely engage on a formal basis" with the Portuguese government once it decides on its plans for TAP Air Portugal, Smith says.
The group has been looking at "the entire Iberian peninsula… for many years", he states, recalling that Air France previously had a strong relationship with Spanish carrier Air Europa, before the latter moved closer to rival IAG.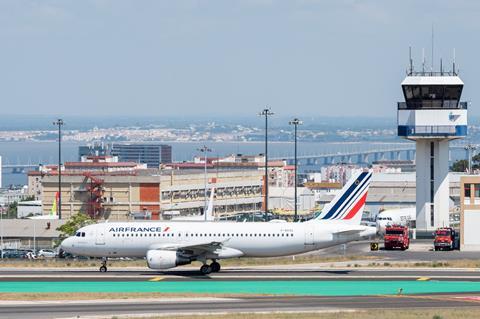 "We had extensive involvement both commercially and on the investment side with Air Europa," says Smith. "On that, we couldn't find a deal or a construct that was satisfactory to us… so TAP of course could be another option for us to have a larger presence."
Just as Air France-KLM faced competition from Lufthansa Group for a stake in ITA, reports suggest the latter would also be a frontrunner for TAP.
"We are the number two operator right now on the southern part of the transatlantic and of course maintaining our position there is of key strategic importance," Smith says.
Aside from consolidation moves, Smith highlights "organic growth opportunities" for Air France-KLM, which he suggests are much more significant than those available to the group's European peers.
On the long-haul, he sees "very attractive" options to expand services to French and Dutch territories in the Caribbean and Indian Ocean.
And at low-cost unit Transavia France, European service from French secondary cities could be targeted once the group has dealt with its priority of "optimising slots at [Paris] Orly".
"We are able to re-enter many markets that we had vacated in the past," Smith says. "[The group] does not have any year-round European service out of seven or eight secondary cities."
Ultimately, Smith says he is comfortable with pursuing those "organic" opportunities, should the group be unable to find a "targeted consolidation".
Growth is harder to imagine at KLM, however.
Regarding potential moves by the Dutch government to reduce movements at Schiphol airport from 500,000 to 440,000 annually, which would be introduced from the end of 2023, Smith laments the idea but also points out that the hub was maxed-out in slot terms regardless.
"There were no growth opportunities for KLM or any other airline," he says. "New destinations were only possible by cancelling other flights or cancelling other destinations."
Smith describes any cut in available slots as "an additional challenge" that can mainly be countered by upgauging aircraft.
"And we can alter the number of passengers we have on a connecting basis versus a local basis to ensure we have the proper exposure in different types of markets," he adds.