Air France-KLM has launched a capital increase to existing shareholders to raise €2.26 billion ($2.4 billion) aimed at repaying state aid secured during the pandemic
The capital raise will be carried out through the issuing of 1.93 million new shares in Air France-KLM, and the airline has allocated around €1.7 billion from the proceeds to repaying Covid-19 recapitalisation aid. The remainder will be used to reduce the airline group's net debt.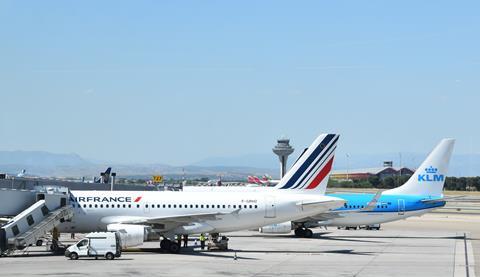 As part of the move French logistics firm CMA CGM will take up to a 9% stake in the company by committing to a maximum of €400 million as part of the rights issue. The investment was announced as a part of a wider long-term cargo partnership disclosed a week ago.
Existing airline shareholders China Eastern Airlines and Delta Air Lines have committed to participate in the rights issue on a "cash neutral basis", selling some of their subscriptions to CMA CGM.
Air France-KLM says its biggest shareholder, the French state which has a 28.6% stake, plans to participate in the rights issue to leave its post-transaction shareholding unchanged.
The Dutch state similarly intends to exercise its rights in proportion to its current shareholding, subject to securing approvals from the Dutch Parliament.
Air France-KLM chief executive Ben Smith says: "The operation we are launching today is the result of the work we have been doing for several months to consolidate our balance sheet, strengthen our financial autonomy and regain strategic and operational flexibility.
"As the recovery continues and our economic performance recovers, in particular thanks to our ambitious transformation plan and the structural benefits it continues to deliver, we want to be in a position to seize any opportunity in a changing aviation sector and to be able to accelerate our environmental commitments."