Air India is "confident" it will turn profitable through its business transformation efforts, as it looks to significantly expand its operating fleet in the near term.
Airline chief Campbell Wilson, who was speaking at a virtual media roundtable on 28 February, says the airline has identified several "low-hanging fruits" for cost efficiency and revenue volume in the "road to profitability".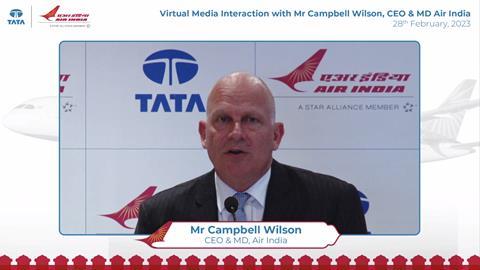 "There's a lot of work that needs to be done to realise this, through the investment in aircraft, in things like pricing [and] revenue management systems," says Wilson.
His comments come as the airline – privatised in early 2022 under new owners Tata Group – makes progress through its five-year business transformation plan, known as Vihaan.AI.
On profitability, Wilson says the airline has an internal timeframe and that it is "very happy with the progress made".
Pressed further about whether the airline hopes to be profitable by the end of the five-year Vihaan.AI plan, Wilson declines to comment. "We are a private business and those are private details," he says.
The virtual event is Wilson's first media engagement since the airline inked a historic 470-aircraft deal with Airbus and Boeing.
While he did not indicate how deliveries of these aircraft will pan out, he says the airline is looking to triple the number of aircraft it has "over the next few years".
Air India has over 100 aircraft in operation currently, and has recently signed a series of fresh leases for used aircraft, including Airbus A320neos and Boeing 777s, on top of its 470-aircraft order.
It is also set to take delivery of six new A350s originally meant for Russian operator Aeroflot from the end of the year, as part of its order for 40 examples.
Commenting on the aircraft orders, Wilson says: "You might think that 470 aircraft is a lot, but when we look at the scale…potential and opportunity of India, I think you can put it into context. India presently has less than 50 widebodies…[and] there are many countries around the world, much smaller in size and in population, that have multiples of that. So, the opportunity is there."
He says India's demographics, diaspora and geographical location are all opportunities the carrier hopes to tap on as it grows its business.
"There is every reason to expect that India will rise up the ranks – not just the economic rankings, but…the aviation rankings. [The] investments we are making at Air India will power that and capitalise this whole industry," he says.