Air Kiribati, the flag carrier of the central Pacific island nation of the same name, has taken delivery of the first of two Embraer 190-E2 jets, giving it the ability to significantly expand its footprint and directly connect parts of its far flung republic which comprises 32 atolls and one raised coral island across all four hemispheres.
The E190-E2 aircraft, the first of the Brazilian manufacturer's three new E2 variants, will allow the airline to operate longer-haul domestic and international routes including connections that had so far been beyond the reach of its fleet of two Viking Air DHC-6 Twin Otters, one Bombardier de Havilland Dash 8 and one Harbin Y-12.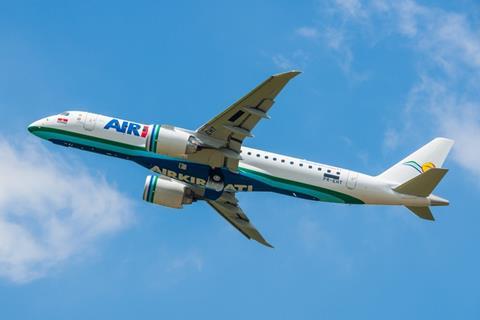 With a maximum range of 2,850nm, Air Kiribati's E190-E2, delivered on 30 December, will be able to fly nonstop from the country's capital Tarawa to Kiritimati (Christmas) Island, another atoll belonging to the country, and one of the most challenging routes in the Pacific. To date, the domestic flight from Tarawa to Kiritimati required an international stopover in Fiji.
"Aviation is critical for any island nation and Kiribati is no exception," says Willie Tokatakke, the country's minister of transport and tourism. "The arrival of our first jet today is the culmination of three years of vision, strategic thought, government focus, research, evaluation, hard work, commitment, partnership and a good measure of problem solving."
In December 2018, Embraer and Air Kiribati, the airframer's Asia Pacific launch customer for the E190-E2 variant, said the airline had ordered two aircraft and taken purchase rights on two more, with a total list value of $243 million.
Embraer says the aircraft delivered on 30 December is configured in a dual-class layout seating 92 passengers, with 12 seats in business class and 80 seats in economy class.
The E190-E2 is the first of three re-engined regional jets developed by Embraer. The E-195-E2 was placed into service in September 2019, and the family's final sibling, the E175-E2, had its maiden flight earlier this month. Embraer said earlier this year that about 20% of its E-Jet production in 2019 would be the new E2s.