Air New Zealand is considering making hundreds of cabin crew redundant as a "last resort" measure in response to a reduction in long-haul demand.
The flag carrier tells Cirium it has reduced its Los Angeles passenger service from a daily frequency to three return flights per week, and converted all San Francisco flights to cargo-only services. It will continue to operate eight cargo-only flights on the Auckland-Los Angeles route.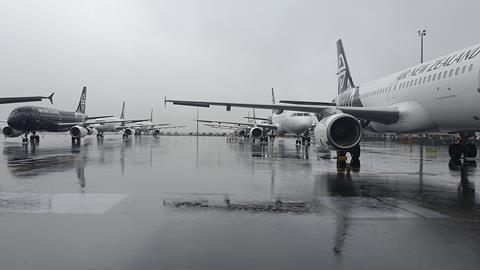 "We recognise that a reduced schedule will require a smaller number of cabin crew going forward and we are working through what this means for the team. Any decision we make will be made in consultation with our people and the unions, with redundancies as the last resort," the airline says.
"We appreciate that our cabin crew have already made significant sacrifices throughout Covid-19, but sadly our international schedule remains largely limited by border restrictions and unfortunately there is not enough flying to provide sustainable rosters for the number of crew we have."
The airline, which posted its first loss in 18 years for the financial year ended 30 June, says that in the "foreseeable future" it has "around 385 more widebody cabin crew in the business than we have work for".
Amid the turmoil of the Covid-19 pandemic, 4,000 staff have already left Air New Zealand. The airline has scaled back its executive team by a third, from nine members to six.
Back in June, the airline painted a stark picture of the next two years, saying that it expected to be just 70% of its former size in 2022, with long-haul travel a distant prospect for 2021.