Air New Zealand has appointed Kiri Hannifin as its first chief sustainability officer.
In the newly created role, Hannifin will focus on sustainability across Air New Zealand's business, as well as its greater focus on the environment, says the carrier.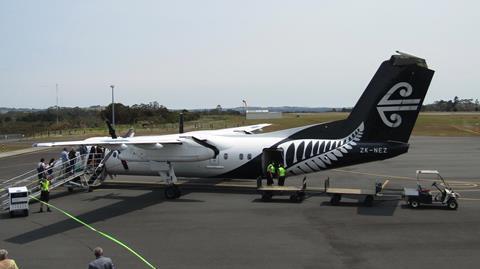 "As we rebuild Air New Zealand, we need to advance the extensive work already undertaken to become a truly sustainable airline," says chief executive Greg Foran.
"Kiri's experience in driving change across the supply chain, engaging customers via tangible measures such as removing plastic bags from stores and diverting food waste from landfill will help our efforts move to a new level."
Prior to assuming the chief sustainability officer position, Hannifin served as the director of corporate affairs, quality, health, and safety.
Air NZ has announced several sustainability efforts, including exploring the commercial production of sustainability aviation fuel with New Zealand's government, and a study with airbus looking into the feasibility of hydrogen as an aviation fuel.
In late 2021, it outlined plans to eliminate carbon emissions on its short-haul domestic network, which it now serves with turborprops.
In a Product Requirement Document (PRD), the carrier called on the aerospace sector to issue proposals for zero emission/'novel propulsion' aircraft. The term 'novel propulsion,' contends Air NZ, captures a range of new technologies such as hydrogen/battery electric, hydrogen combustion, or hybrid.