Air New Zealand has announced a programme to for a zero emissions aircraft, building on the carrier's Product Requirements Document (PRD).
The carrier's 'Mission Next Generation Aircraft' programme aims to fly a commercial demonstrator flight from 2026, and start replacing its De Havilland Dash-8 Q300s with a hydrogen or battery-hybrid powered aircraft from 2030, says the carrier.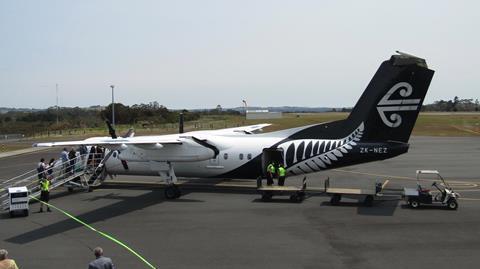 It notes that following the release of the PRD in December 2021, over 30 aircraft developers came forward with ideas. The company is in "close negotiations" and expects to sign letters of intent with partners by the end of 2022.
While the company did not name potential partners, it issued an image of chief executive Greg Foran standing with Airbus's Asia-Pacific chief Anand Stanley and New Zealand Associate Transport Minister Kieran McAnulty.
"We have bold sustainability goals," says Foran.
"Conventional business processes are not going to address the technology or infrastructure required to meet them. We want to lead the roll out of zero emission aircraft and will work alongside aircraft developers, innovators and infrastructure providers to give them the confidence they're developing a product that's a viable option for us."
The coming three years will see the aircraft built, test and certified, along with the necessary infrastructure. He adds that by 2026 Air NZ's first zero emissions aircraft will take flight, carrying either passengers or cargo.
"The learnings we will take from flying an aircraft with next generation propulsion technology from 2026 will pave the way for our long-term green hydrogen and hybrid partners to deliver an aircraft that can replace our Q300 domestic fleet," he adds.
"We're breaking new ground here – it's not just the aircraft that needs to be developed, but also the infrastructure and regulation required to fly commercially."
In its PRD document, Air NZ stated that its domestic network is ideally suited for decarbonisation, as it is characterised by short routes that support early aircraft demonstrations. Moreover, the country's largely renewable energy grid allows for cost effective infrastructure.
The PRD foresaw three stages of adoption. The first, running from 2023-25, entails work on a hybrid electric aircraft with 1-9 seats. The second stage, from 2026-30, anticipates a novel propulsion aircraft of 10-50 seats operating domestic routes. Finally, in 2031-35 a zero emissions aircraft with 50+ seats will replace existing turboprops.
Three months before issuing its PRD in December 2021, Air NZ announced signed a memorandum of understanding with Airbus to study the feasibility of hydrogen powered aircraft in New Zealand.
Cirium fleets data indicates that Air NZ operates 23 Q300s with an average age of 15.7 years. It also has a pair of ATR 72-500s (listed as being in storage) with an average age of 22.9 years, and 29 ATR 72-600s with an average age of 5.6 years.