Air New Zealand has raised its half-year profit forecast, on the back of "continued" strong travel demand, as well as a steady decline in jet fuel prices, though it flagged several factors that could affect its profitability in the new year.
For the six months to 31 December, the Star Alliance carrier expects earnings before other significant items and taxation to be between NZ$295 and NZ$325 million ($187 to $206 million). It is an upward revision from forecasts issued in September, where the airline expected a profit of between NZ$200 and NZ$275 million for the half-year.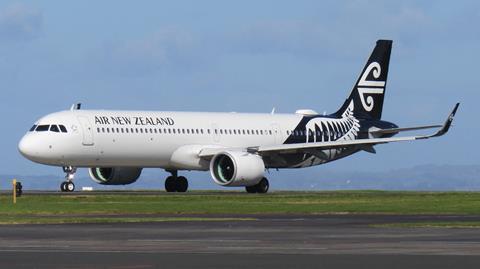 The update is based on forward booking expectations, as well as system-wide capacity at around 75% pre-pandemic levels, with domestic capacity slightly under 100%, short-haul at around 85% and international at around 70% pre-Covid-19 levels.
"Ticket sales over the past two months have remained strong as New Zealanders continue to book travel overseas and at home, and as the majority of our remaining international destinations re-open for passenger travel," the airline states.
It also notes that fuel prices have moderated in recent weeks, despite still being higher than pre-pandemic prices. To this end, the lowering of fuel costs has added about NZ$20 million upside to its guidance.
Air New Zealand stopped short of issuing a full-year profitability forecast, noting that the sector remains volatile.
"There are many factors that have the potential to slow the airline's recovery and significantly impact earnings. These include ongoing fuel price volatility, global recessionary risks, continued inflationary pressures and increased costs," it states.
For the year to 30 June, the airline was NZ$725 million in the red, widening its pre-tax losses on the back of coronavirus restrictions and high fuel prices.