Air New Zealand will take no new aircraft before July as it eyes "opportunities to adjust" its future widebody fleet, including reducing the number of Boeing 777-300ERs and delaying 787 deliveries.
The Star Alliance carrier also warns of a "significant loss" for its financial results for the year ending 30 June, amid a "large degree of uncertainty" surrounding demand recovery.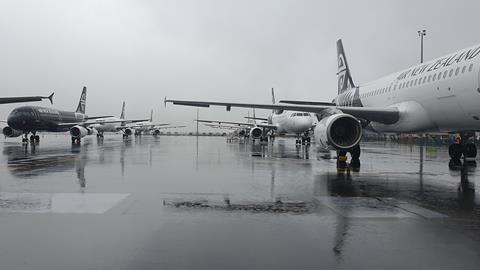 It has already deferred part of its narrowbody and turboprop deliveries, which comprise mainly Airbus A320neo family aircraft, as well as ATR 72-600s. Deliveries for these aircraft will begin in its 2022 financial year, which starts on 1 July this year.
As for the widebody fleet, which excludes the 777-200ERs it grounded indefinitely last year, the Star Alliance carrier states its window of opportunity to decide their fate will come in the next six to nine months.
If it does decide to adjust the fleet size, some of its 777s could exit the fleet as early as the middle of 2022.
The latest disclosure to its fleet plans comes as the carrier announced today reported a pre-tax loss before significant items of NZ$185 million ($137 million) for the pandemic-hit six months ending December 2020. This compares to a NZ$198 million underlying profit it reported during the same period the previous financial year.
Operating revenue slumped 59% year on year to NZ$1.23 billion, while it cut expenses 58% to NZ$1.01 billion.
Air New Zealand blamed international border closures for its drop in revenue, though domestic travel demand remained strong. New Zealand's borders remain shut indefinitely, as part of measures to curb the spread of the coronavirus. Cargo was a bright spot, with revenue rising 91% year on year to NZ$373 million.
The carrier has more than halved its monthly cash burn — from NZ$175 million at the start of the pandemic in last quarter of the 2020 financial year to NZ$79 million.
"The airline is estimating average monthly cash burn for the remaining five months of the financial year to be in the range of NZ$45 million to NZ$55 million while international travel restrictions remain and assuming continued operation of the domestic network with no further lockdowns or social distancing requirements, as well as a continuation of government-supported cargo flights," it says.
Still, it warns that cash burn could increase in the second half of the year, "as deferrals in operating and investing cash flows roll off".
Air New Zealand also took a one-time, non-cash impairment charge of NZ$39 million for the half-year, linked to the indefinite grounding of the 777-200ERs, as well as other lease modifications.