Regional carrier Air Nostrum has become the second Spanish airline after Volotea to support electric aircraft developer Dante Aeronautical.
Dante says the three companies have made a joint presentation to Spain's transport ministry in a bid to receive financial support from the European Recovery Fund for the development of fully electric regional air transport links in the country.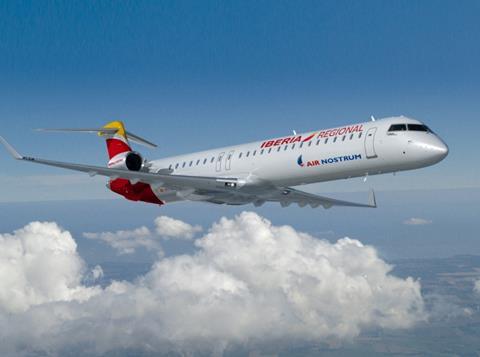 The partners submitted a proposal for a €42 million ($50 million) budget to convert in-service aircraft for 9-19 passengers to "100% electric" operation, Dante says.
Noting that electrification of existing aircraft promises to be faster than the "long and costly development" of an all-new design, Dante says certification of the first aircraft is scheduled for 2024, while "versions of various aircraft" are to be become operational by 2026.
Dante is developing a 19-seat, hybrid-electric regional aircraft, designated the DAX-19, with a range of 400nm. The company, headquartered in Spain and Australia, is also working on a supplemental type certificate to convert Cessna Caravan seaplanes to electrical power, its website inidcates.
In 2019, Volotea was revealed as partner in Dante's hybrid-electric commuter development. The Barcelona-based budget carrier is supplying market analysis and technical data to the programme.
Air Nostrum is to play a similar role under the extended partnership. Its president, Carlos Bertomeu, describes the Valencia-based regional carrier as having "innovation in its DNA". He states: "We are very interested in operating these [regional] routes with electric propulsion when technology allows."
Dante argues that the electrification project will contribute to Spain's "territorial cohesion" by improving more sustainable air transport links to peripheral areas and islands. The project represents an opportunity to boost Spain's "entire business and innovation fabric", Dante adds.
Cirium has contacted Dante for further detail about the programme.