Air New Zealand expects cargo revenue for the coming financial year to exceed previous years' levels, after being awarded four more months of cargo flights under a government scheme.
Under the International Air Freight Capacity scheme, the New Zealand government will provide financial assistance to all carriers operating cargo flights, to ensure "continuity for aviation freight in and out of New Zealand".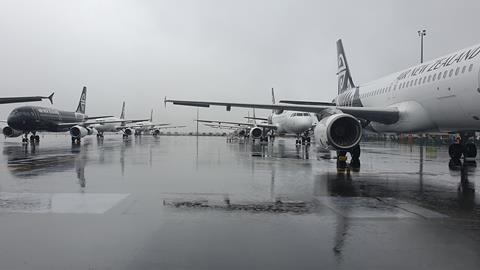 Air New Zealand says the financial support will add between NZ$100 million ($70.4 million) and NZ$145 million to its cargo revenue over the four-month period, which begins 1 December.
"With the certainty of the next four months of this arrangement, the company expects cargo revenue for [Financial Year 2021] to exceed [Financial Year 2020] levels," says Air New Zealand.
Still, the carrier, which has been awarded an average of 55 flights a week, expects that it will still be in the red for the financial year ended 30 June 2021, despite the increase in cargo revenue.
It reported an NZ$87 million loss for the year ended 30 June, its first loss in 18 years, as the coronavirus outbreak torpedoed travel demand.
In October, Air New Zealand reported a 50.6% decline in passenger numbers year on year, carrying just 690,000 passengers across its network, the bulk of them domestic passengers.
While New Zealand has kept the outbreak largely under control, its borders remain mostly shut.
Still, Air New Zealand reported a year-on-year decline in domestic traffic, carrying 672,000 passengers for the month, a 25% decrease compared to October 2019.
Domestic RPKs fell 23%, while ASKs shrank 15% year on year, leading to an 8.3 percentage point decline in passenger load factor to 78.8%.
As a result of closed borders, the carrier's international traffic results remained at depressed levels. It only carried 7,000 passengers on its long-haul network, 96% lower year on year.
Long-haul RPKs plunged 96%, while ASKs fell 90%, compared to October 2019.
On its trans-Tasman and Pacific network, Air New Zealand carried just 12,000 passengers in October, a 96% year-on-year decline. RPKs for the sector fell 97%, while ASKs shrank 90% year on year.