Air New Zealand will ground its Boeing 777 fleet for nearly one more year, as it notes that recovery from the coronavirus pandemic will be "slower than initially thought."
Instead of resuming 777 operations at the end of the year, the carrier says it will store the aircraft "until at least" September 2021.
Four of its seven 777-300ER aircraft will be moved to Victorville, California, while the remaining three will remain parked in its Auckland base.
As for its 777-200ER fleet, the Star Alliance carrier will store all eight aircraft at long-term storage facilities in Victorville, as well as at Roswell in New Mexico state. The first aircraft will be moved later this month, it adds.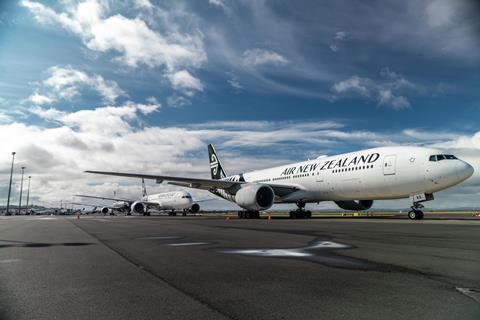 Air New Zealand in May said the eight 777-200ERs were "unlikely to fly" in the foreseeable future and was preparing to send them to long-term storage facilities overseas.
It was also in May that it stated it was deferring delivery of Airbus A321neos, which were it was scheduled to take between January 2022 and April 2024.
Air New Zealand chief operating officer Carrie Hurihanganui says: "The recent resurgence of cases in New Zealand is a reminder that this is a highly volatile situation. We are not anticipating a return to any 777 flying until September 2021 at the earliest, which is why we have made the decision to ground the fleet until at least this time next year."
In lieu of the 777s, which are the largest aircraft in the airline's fleet, Air New Zealand says its international network will be served by its 787s, along with A320s and A321s for trans-Tasman and Pacific Island routes.
Cirium fleets data shows that Air New Zealand's 777-300ERs are between six and 10 years of age, and its 777-200ERs are between 13 and 15 years old.
Air New Zealand posted its first loss in over 18 years, as the coronavirus outbreak torpedoed travel demand. For the year ended 30 June, it reported an NZ$87 million ($58 million) underlying loss.