Air New Zealand saw its April passenger traffic grow for the first time in more than a year, aided by significant increases in its short-haul international and domestic operations.
For the month, the Star Alliance carrier flew 866,000 passengers, a 56-fold increase year on year. At the group level, traffic jumped nearly nine times, while capacity more than trebled compared to 2020 levels.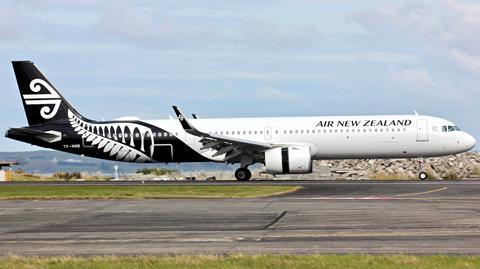 Domestic passenger numbers grew more than 90-fold to 811,000, as the country reopened after being locked down last year to curb the spread of the pandemic.
RPKs on the domestic network also grew at similar levels, while capacity saw a near-nine-fold increase year on year.
Meanwhile, the launch of the travel bubble arrangement between Australia and New Zealand in mid-April has provided a fillip for its trans-Tasman passenger numbers.
The carrier flew 51,000 passengers on trans-Tasman and Pacific flights, a 30-fold jump year on year. RPKs for the sector leapt about 49 times, while capacity saw a five-fold jump year on year.
Air New Zealand's long-haul operations still remain at woefully low levels in April, as border closures and travel restrictions remained in force.
It carried 4,000 passengers across its long-haul network, a 29% decline year on year. Traffic fell 31%, while capacity grew a marginal 8.5% compared to 2020.
Separately, the New Zealand government has extended an aid scheme for the carrier for international cargo flights for a further five months until end-October.
Under the Maintaining International Air Connectivity scheme, which was first announced in March, Air New Zealand has been awarded an average of 30 flights weekly to 13 points in its network, including to Hong Kong, Los Angeles, as well as other "key Pacific ports".
The scheme will provide a boost for the carrier's revenue — to the tune of between NZ$120 to 145 million over the five-month period.
Air New Zealand adds that the scheme will push its cargo revenue for the year ending 30 June higher than the previous year.