Air New Zealand is seeing a recovery in passenger bookings both domestically and internationally following the removal of travel restrictions related to the coronavirus pandemic.
Since April 2022, domestic bookings have reached pre-Covid levels, according to Air NZ's results presentation for the 12 months to 30 June.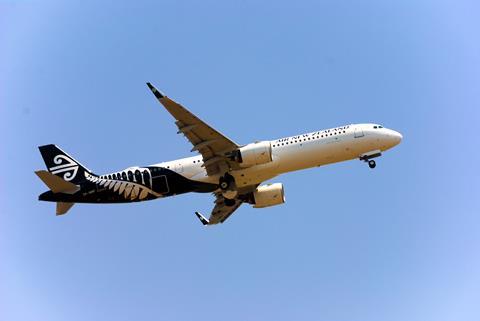 Domestic corporate demand is recovering well following the emergence of the Omicron variant of Covid-19 in late 2021, and leisure demand exceeds pre-pandemic levels. Forward sales are also strong, driven by higher average fares.
International bookings, however, are at 65-70% of pre-pandemic levels. Tran-Tasman routes to Australia have rebounded strongly, and North America is Air NZ's strongest long-haul market. Asian bookings, however, are relatively weak owing to what the carrier describes as "varying levels of border flexibility in those markets."
According to the carrier's financial results, Air NZ's passenger traffic on Australian and Pacific Island routes doubled to 734,000 in its 2022 financial year. Passenger traffic on American and European routes tripled to 124,000.
Asian routes told a different story: in the 12 months to 30 June, Air NZ carried 52,000 passengers on Asian routes. While this was an improvement from 32,000 a year earlier, it is a fraction of the 914,000 passengers it carried on Asian routes in its 2019 financial year.
Despite the improvement from 2021 to 2022, Air NZ lags pre-pandemic passenger numbers. Total passenger numbers for its 2022 financial year came in at 7.7 million, down from 8.6 million a year earlier. This is also far below the 17.7 million carried in the 2019 financial year.
For 2023, Air NZ expects to deploy75-80% of pre-pandemic capacity during its 2023 financial year. Domestic capacity is expected to recover to 95-100% of pre-pandemic levels, trans-Tasman traffic to 80-85%, and international long-haul to 65-70%.
Reflecting the general air travel recovery, Air NZ foresees capital expenditure on its fleet growing over the next few years. It expects this to run just below NZ$400 million ($249 million) annually in its 2023-24 financial years with the delivery of five Airbus A321neos, and jump to over NZ$600 million annually during its 2025 and 2026 financial years, when it will take delivery of the four Boeing 787-9s that remain on its orderbook – aircraft that were deferred during the pandemic.
The carrier has no capital expenditure commitment for new aircraft beyond
In addition, Air NZ will refit the interior of its 787-9s, which is expected to commence no later than the middle of its 2024 financial year. This upgrade work is expected to cost around $450 million spread over several years.
Air New Zealand's cash position is strong, with cash and cash equivalents of NZ$1.8 billion as of 30 June, compared with NZ$266 million a year earlier. This improvement reflects a major recapitalization exercise backed by the Wellington, the carrier's majority shareholder with a 52% stake.