AirAsia Aviation Group expects further improvement in its performance in the near-term, helped by a continued upswing in travel demand, as the group's carriers remained profitable for a second consecutive quarter.
The aviation units of Malaysia-based investment holding company Capital A swung back to a positive EBITDA of around MYR107 million ($24.3 million) for the three months to 30 September, reversing the MYR145 million negative EBITDA in the year-ago period.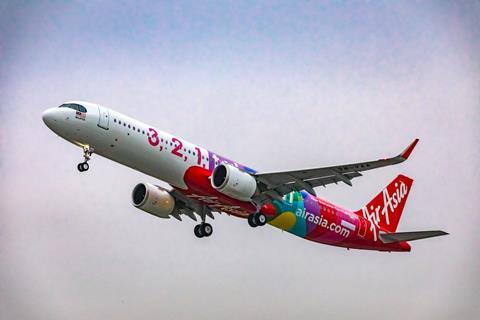 The group, which has units in Malaysia, Thailand, Indonesia and the Philippines, says it "saw a strong and encouraging uptrend in performance benefited from the lifting of international travel restrictions in most of our core markets, which led to an upsurge in air travel demand", particularly within Southeast Asia.
Revenue for the quarter surged sevenfold to MYR1.8 billion, as AirAsia carriers ramped up flights. Against the year-ago period, the group saw capacity increase 18 times, though it notes that it was still operating well below pre-pandemic levels, at 53%.
AirAsia Aviation units carried 7.1 million passengers during the quarter – a twenty-fold increase year on year – but down 45% against the same period in pre-pandemic 2019.
In line with higher flying activity, the group saw quarterly expenses increase about fourfold to MYR1.75 billion, led mainly by a spike in fuel costs.
Says parent company Capital A: "The high fuel costs and the weakening of currency against the US Dollar has further impacted the overall operating costs of the aviation group."
On the market outlook, Capital A chief Tony Fernandes says the AirAsia airlines "For our airlines … we expect improving performance ahead as we anticipate some tailwinds in aviation – oil prices are going down, the Asean currencies are strengthening against the US dollar, and any recession will actually be a positive for us in the low-cost aviation space as people trade down to shorter flights and cheaper flights. "
He also points to a strong finish to the 2022 calendar year, with travel demand still holding strong during the festive seasons and school holidays.
AirAsia Aviation ended the quarter with an operational fleet of 103 aircraft, and is targeting to operate 140 aircraft – and at 62% pre-pandemic capacity – by year end.
The financial results come days after Capital A disclosed plans to divest its aviation interests to medium-haul affiliate AirAsia X. It disclosed these plans as it sought for an extension from the Malaysian stock market to submit "a holistic regularisation" plan, after it was labelled a 'PN17' company – a categorisation for distressed entities.